An Anglers Dream: Fishing Accessories For The Can-Am Defender
Jan 14th 2021
Although some people use their Can-Am Defenders as boats, these semi-terraqueous 4x4 machines are better suited for land. This doesn't mean, however, that you can't use your Can-Am Defender for fishing. Almost any well-built side-by-side can transport you to and from the fishing hole, but with the right Can-Am Defender fishing accessories, you can optimize your rig for bait fishing, spinning, fly-fishing, or trolling. Be it fishing pole mounts for the Can-Am Defender XMR, in-bed tackle box accessories for the Can-Am Defender HD10, or pull-behind ice fishing shacks for the Can-Am Defender MAX, don't embark on a fishing trip without adding the essential Can-Am Defender fishing accessories to your UTV!
Can-Am Defender Bed Covers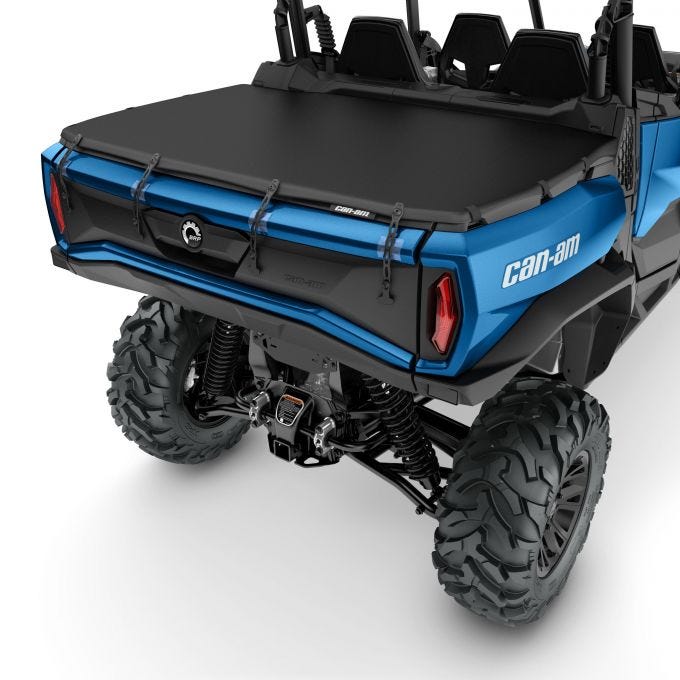 Although they're not fishing accessories per se, bed covers are worth investing in if you're a serious fisherman or fisherwoman. Because your fishing gear is likely waterproof, you may not need a Can-Am Defender bed cover or bed box that is 100% sealed. Instead, you'll likely want something to keep things from bouncing around on the trail. And if the aftermarket bed cover options don't suit your fancy, you could also build your own Can-Am Defender bed accessories.
You'll be surprised what you can do for your machine's bed using a high-quality sheet of ¾" maple veneer plywood coated with a primer layer and three coats of matte black paint. Add a hinge to the front, forward turnbuckles, or a few shackles in the back to secure it, and you should be good to go. Then, when you're fishing, you could either prop your bed cover open with a stick, install gas shocks, or use locking arms on each side like a folding table. In this way, even if you're the type of rider who just throws fishing gear into the bed of your Defender before taking off, you'll still achieve coverage from rain, dust, and snow without causing too much of a nuisance.
Can-Am Defender Ice Fishing Accessories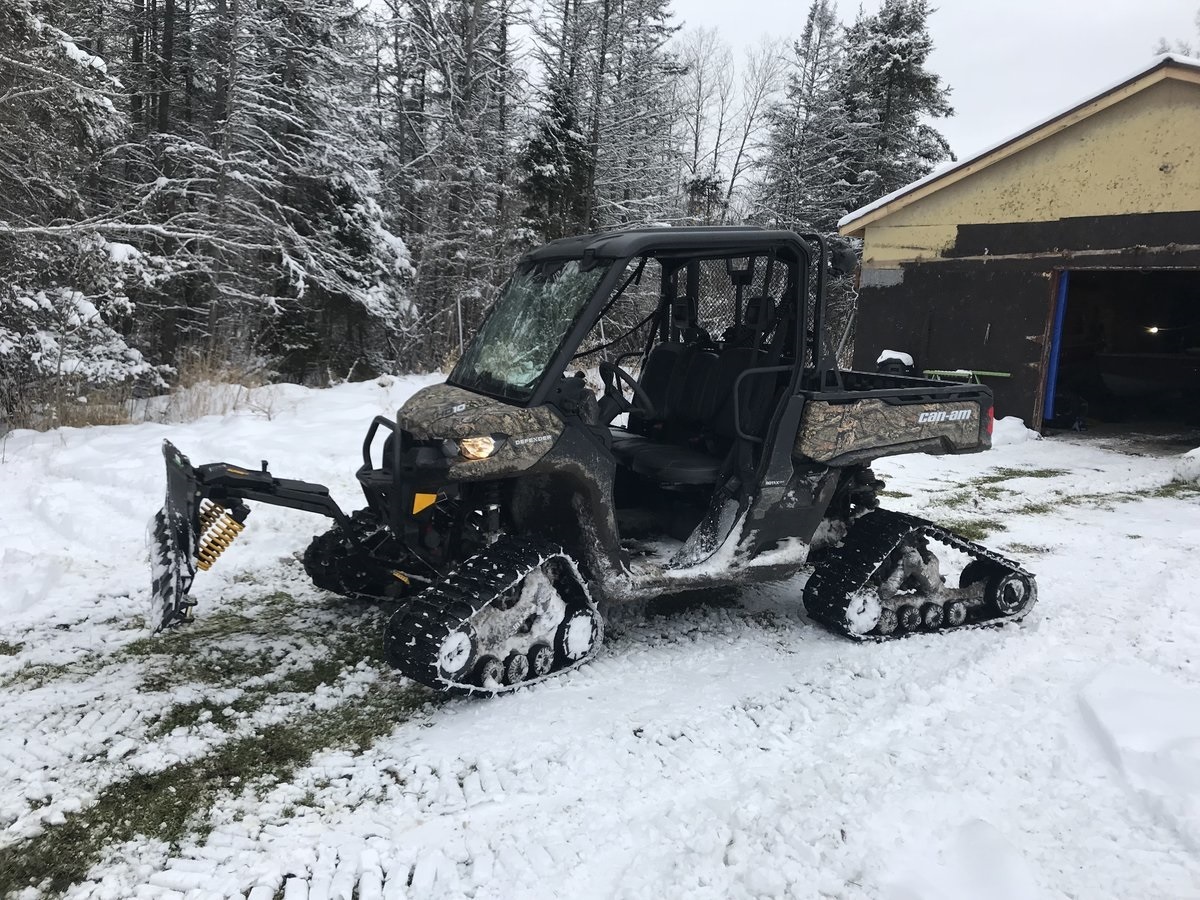 If you bought your side-by-side to use it on frozen lakes, there are myriad Can-Am Defender fishing accessories that can bring added convenience, comfort, and joy to your ice fishing expeditions. Fish houses (AKA ice huts, ice shanties, or ice houses) are awesome to have on those sub-zero days on the lake. While the hardcore UTV ice fishers out there may just opt to cut a hole in the floor of their Can-Am Defender Limited, over-bed or tow-behind ice huts for the Can-Am Defender are less extreme ice fishing options that riders can choose to use. And all you'll need to pull one is a Can-Am Defender receiver hitch!
When deciding on a Can-Am Defender fish house, there are a few things you mustn't overlook when making your deliberations. With soft-sided ice shelters like the XT Pro Lodge by Otter Outdoors, you've gotta be careful about what you throw in the bed alongside it, lest you cut your brand new ice fishing tent. Units like the Frabill Caboose are a little more robust, and the utility tents, pop-up cabins, and utility vehicle shelters (UVS) by Canvas Craft are also highly durable and well insulated.
Like Canvas Craft and Frabill, the UTV toppers and work boxes by Pro Fab Outdoors are also amazing for side-by-side ice fishing. Similarly, Black Hole Ice Shacks are prevalent among those who use their snowmobiles, quads, and Can-Am Defenders to drag pull-behind ice fishing equipment. While prefabbed brackets and auger boots that allow you to cradle / mount your auger on the front of your rig are nice, there are times where Can-Am Defender fishing accessories and ice fishing accessories like ice houses can make a huge difference during fishing trips in terms of safety, effectiveness, and enjoyment!
Can-Am Defender Fishing Accessories
When you're on a boat in the ocean or camped out over a frozen lake, you may not need stealth to have a successful day fishing. But if you're river fishing, creek fishing, or casting lures from the shoreline, the element of surprise may be the only thing between you and that trophy-sized trout, brookie, or walleye. Things like loud noises from exhausts and bright lights from powerful light bars will scare fish away, which is why many experienced UTV anglers install slip-on exhaust silencers and colored accent lighting.
Seizmik side mirrors, for example, come with green LEDs, and RGB underglow light kits for the Can-Am Defender can also be installed to provide you and your passengers with illumination without startling nearby fish. From Kolpin clamps for your ice auger to net mounting brackets and fasteners for your fishing rods, we've got all the Can-Am Defender fishing accessories you need to improve your catch rates here at Everything Can-Am Offroad!