Can-Am Defender: The Workhorse Of The Can-Am Lineup
Dec 22nd 2019
Between fencing and feeding the critters to running trapline and hunting, the Can-Am Defender always gets the job done. Be it the Defender XMR, the Defender XT, or any other edition of the Can-Am defender, you can start out your day with a little yard work, do some plowing or towing in the afternoon, then finish your evening off by tooling around the back roads or trails with your family and friends.
When compared to other Can-Am vehicles and even other UTVs of various sizes and classes, the Can-Am Defender stands as the undisputed work-hog of the side-by-side world. Weather you're a rancher looking for a farm vehicle, a landscaper looking for a work vehicle, or any other type of laborer or builder on the hunt for the perfect machine to help you with your tasks, the Can-Am Defender will not let you down.
What Sets The Can-Am Defender Apart From Other Work UTVs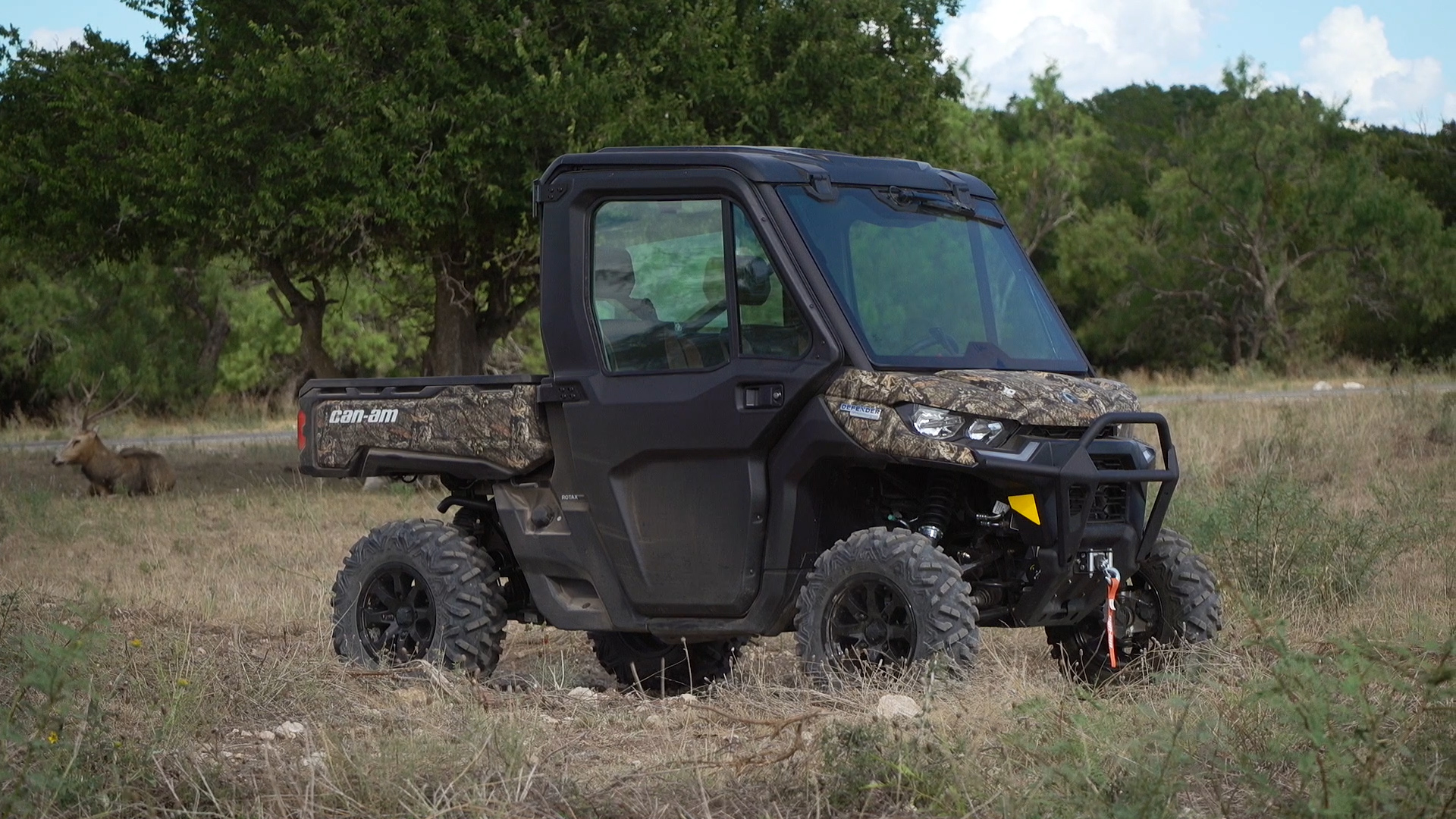 Many UTV riders start out with Polaris machines, John Deeres, or Kawasakis, and none of them hold a candle to the Can-Am Defender. Sure, if you're looking to go 60mph and above through trails and over dunes, maybe something like the Maverick Max is better suited for your needs. But for 20-40mph running at the ranch, worksite, or homestead, its not even a fair comparison.
The Can-Am Defender is quiet and powerful, and the Lone Star edition just floats over terrain, smooth as any Ford Raptor. Ask anyone who has switched from a Polaris to a Can-Am Defender and they'll likely tell you that they will never go back. And if you look into it, the makers of Can-Am UTVs (BRP) also build airplanes and snow cats. That quality must surely translate down the line to their other products.
The Can-Am Rotax engine, for example, is the only engine used in side-by-sides that is also certified for light aircraft. It's not uncommon for other side-by-sides to require engine repairs and rebuilds after 4,000 to 5,000 miles. At the same time, it's also not uncommon to see Can-Am engines running strong at nearly 15,000 miles.
Another huge selling point for the Defender is that it's the only side-by-side with a rear (and optional front) Elocker differential. For riders that are frequently going up steep and rocky inclines, the Can-Am Defender can handle it easily in 2WD, whereas UTVs like the Ranger require 4WD for the same terrain. Sure this may not apply to all riders, but for those who use their machine to log, hunt, or traverse steep inclines, it can be a key factor.
The dependability as well as reliability of the Defender is another reason why they are the perfect work machine. We've spoken to guys who own repair shops, and the percentage of Polaris machines that come through are much higher than Can-Ams. Yes this could just be because more Polaris UTVs are out there than Can-Ams, but we'll leave that issue for statisticians.
Possible Can-Am Defender Additions
Depending on what kind of work you do with your Can-Am Defender, there are a few accessories that will undoubtably make your tasks easier. Winches are a great example, and in-bed winches are particularly useful for a work machine like the defender. You can use a 5/8" piece of aluminum flat stock, weld a gusset on it, then bolt it down in place through the box where there are already two holes. If you don't want a full winch setup in your bed, you could also mount a come-a-long jack in the bed to use for pulling up elk / deer, bales of hay, wood, or anything else you need to haul. And on a similar vein, electric hoists can also be installed, which are back savers for sure. With a synthetic rope and a front-mounted winch, you can throw your rope over the top of your Defender, tilt the bed, and use the winch to slide whatever you need right into the bed.
The heated cab of the XT 1000 sure is nice for working, hunting, or trapping in the winter, and things like tracks and plows can be installed as well for working and playing in the cold. For more info on these check out our past blog post on Can-Am Snow Tracks.
Closing Remarks
There's no doubt that the Can-Am Defender is a great machine for working. It's reliability coupled with a steadfast ability to keep on chugging makes it stalwart of a side-by-side that workers have come to rely on to get things done. It may not be the fastest, strongest, or most powerful UTV out there, but it's more than capable of pulling its weight and won't let you down when those deadlines are approaching!