Can-Am Snow Plow Review / Buyer's Guide
Mar 29th 2021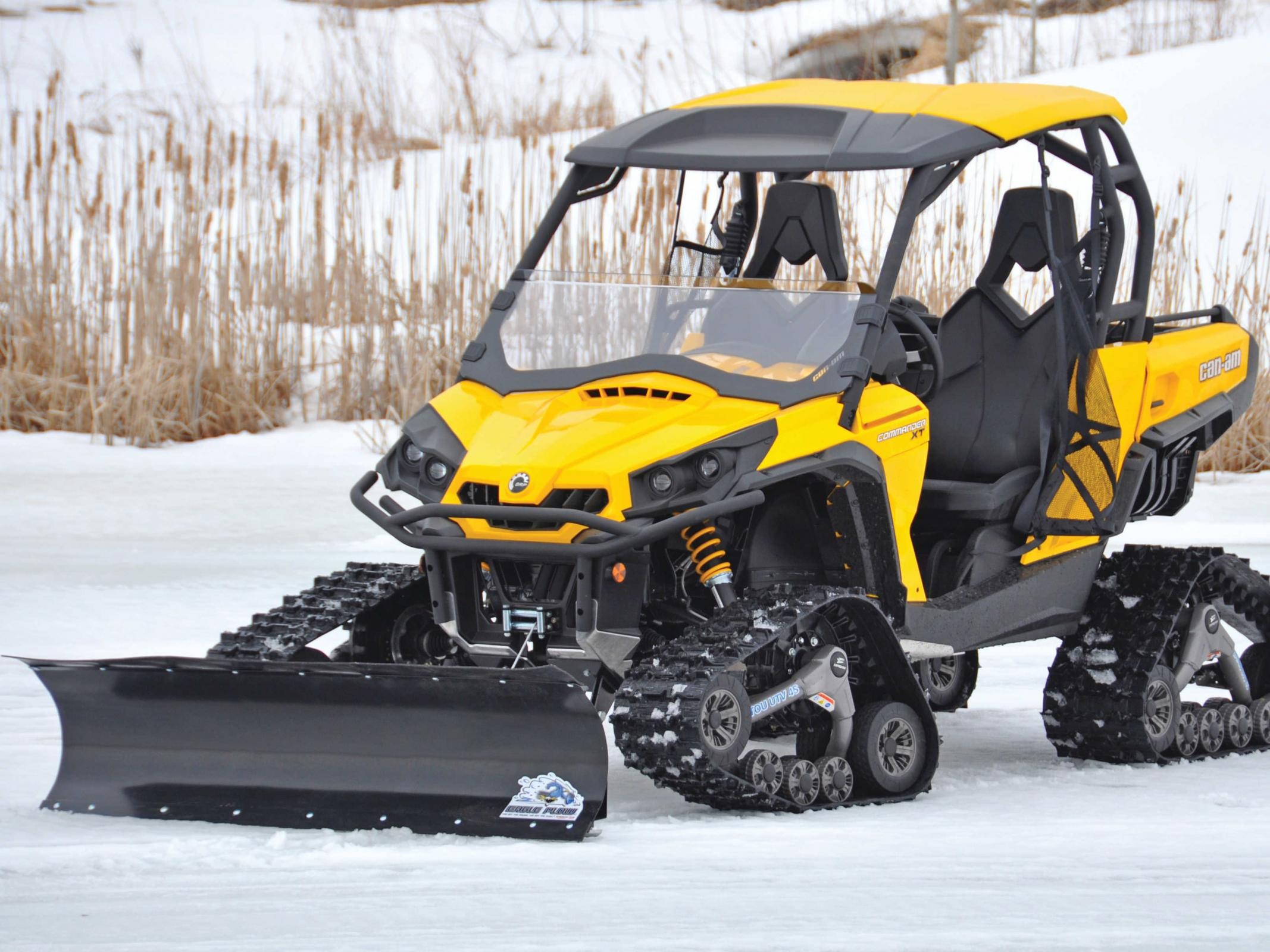 Whether you're wanting to remove multiple inches of heavy wet snow from your sidewalk, or looking for a Can-Am UTV snow plow that can handle dirt roads with occasional large rocks, getting the right side-by-side snow plow for the job has never been easier. But not just any old snow plow will work for you and your Can-Am Defender, Can-Am Commander, or Can-Am Maverick. Each machine requires its own specific snow plow mount, and where size is concerned, the vehicle must be able to handle the height, width, and weight of the snow plow blade. Truck snow plows are far too big for Can-Am UTVs, while ATV snow plows are often too small. But a perfect middle ground can be achieved with the right side-by-side snow plow. So here is our Can-Am snow plow review, expressing our thoughts on the various snow plow setups out there for Can-Am UTV owners!
Kimpex Snow Plows
Kimpex and their Click And Go 2 snow plow setup is a quality option that won't break the bank. If you just can't bring yourself to pay several thousand dollars for a Warn snow plow, a Western snow plow, or a Boss snow plow, the Kimpex snow plow system is probably right for you. For a fraction of the cost of other Can-Am Defender snow plows, the 72" Kimpex plow is a solid unit that won't struggle to get the toughest of jobs done. The Kimpex snow plow kit comes with everything you need to start moving snow, from a robust push frame and a sturdy plow blade to a Can-Am Defender-specific mount. So if you're ready and eager to start moving mounds of the fluffy stuff, this snow plow kit can get you there in a hurry!
Kimpex snow plows for the Can-Am Defender bolt right onto the vehicle's frame without requiring you to drill extra holes or even remove the skid plates. And if the plow blade is too short for your needs, there are a variety of addons that you can install such as upper blade pieces to keep the snow from coming over the plow during long passes. Because the lights are so high on the Can-Am Defender, the Kimpex plow blade won't obstruct your visibility -- even when it's in the uppermost position!
Because the Kimpex snow plow is cheap, however, it lacks some of the functionality that the more expensive Can-Am snow plows have. Hydraulics, for example, are not included with the Kimpex plow kits. As such, if you want to change the angle of the blade, you'll have to exit the cab and do it manually with the plow's foot pedal. Although this is super easy and takes only seconds to do, when it's bitter cold outside and you'd rather remain in the comfort of the cockpit, it can be a dealbreaker for some -- especially for those with the means to afford a hydraulic Can-Am snow plow.
When springtime rolls around, you can easily remove the Kimpex plow by taking off the A-frame piece under the belly of the SxS in the front. The main support frame stays on, and only sticks down about a half an inch. Because the plow's support frame is made from solid steel, there is little chance of it bending while you're out ripping it up in the spring, summer, and fall!
KFI Snow Plows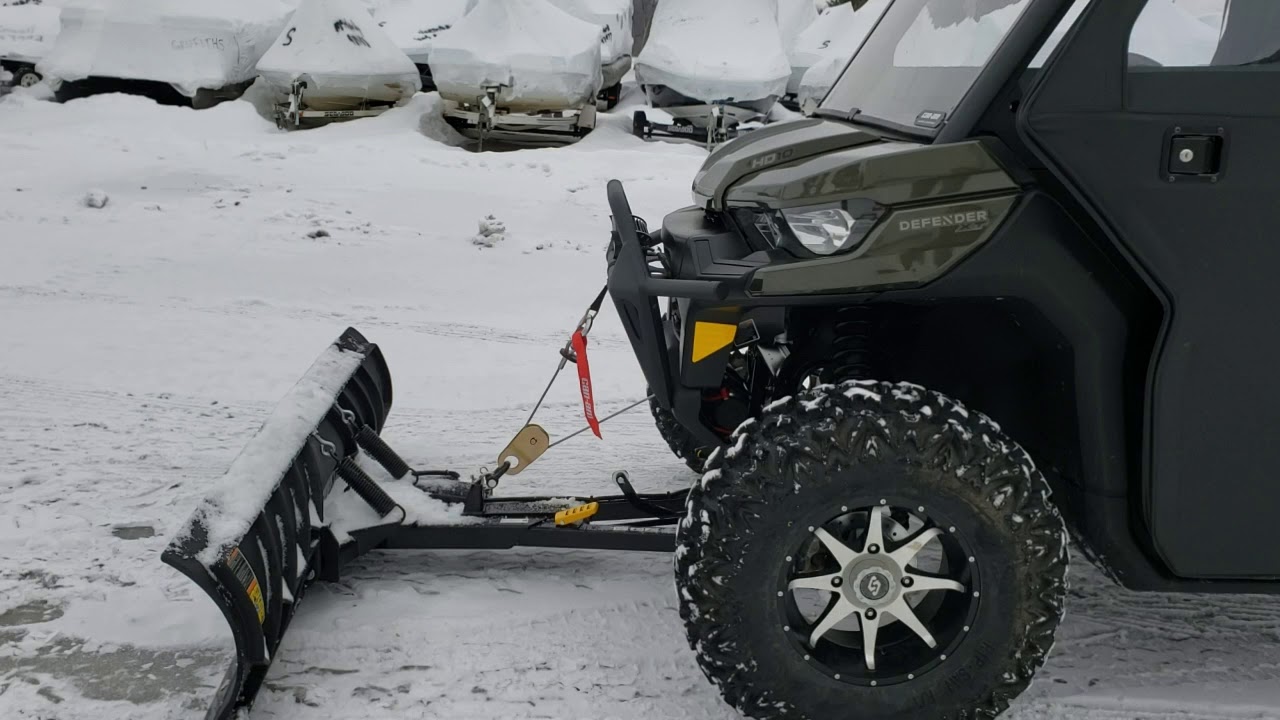 KFI snow plows for the Can-Am UTV lineup are also quite budget-friendly, and you can choose between the KFI steel-blade plow or the KFI polycarbonate blade plow. The right KFI snow plow for you will depend on how much plowing you intend to do, how much snow you get, as well as the temperature fluctuations where you plow. In places like WNY, for example, riders experience a lot of wet heavy snow, with multiple melting and refreezing cycles throughout winter. This then creates icy conditions and super hard snow piles, which a KFI poly blade might struggle to overcome.
If you'll likely use and abuse your Can-Am snow plow like a rented mule, the KFI steel snow plow kit is the better option. The KFI poly blade isn't necessarily the issue, but rather, the push tubes / lower kit / plow base. With the steel KFI snow plow blade, there is more support / framing, which prevents bending and deformations.
Denali And Boss Snow Plows
Although you're sure to be happy with a Kimpex or KFI snow plow, if money is not an issue, the best Can-Am snow plows on the market are made by companies like Boss and Denali. The former is the industry leader in V-shaped UTV snow plows, while the latter offers Can-Am Maverick, Commander, and Defender snow plows in all shapes and sizes. Denali snow plow blades range from 60 inch blades to 72 inch blades, and they come in multiple colors with varying features such as hydraulic turn options, lift mount kits, plow pulleys, and extended lift arms for Can-Am UTVs on snow tracks. If you're located in an extremely harsh climate, or looking for professional-grade snow removal products, Denali and Boss plows are expensive, but worth every penny!
Can-Am Snow Plow Advice
Whatever kind of Can-Am snow plow you choose, be prepared to have issues with the winch line on any plow that uses a winch to lift the plow blade. Instead of using a synthetic or steel winch cable, using a winch strap will prevent that the fairlead of your winch from wearing down winch line. The surface you plow over should also be taken into consideration. A level stretch of paved blacktop will require something different than a bumpy gravel road. Although most plows utilize trip springs that should give / deflect before the blade, plow frame, or mounting points bend or break, if you catch a large rock towards the end of the blade, there's a better chance of it bending. A potential fix might be to add a split shiv on the lower carabiner and terminate it back to the bumper, while while plow markers are useful as well.
When old man winter rears his ugly head, there are few weapons better to wield than a Can-Am UTV snow plow. So the next time you get dumped on, leave the shovels in the garage and equip your rig with a proper side-by-side snow plow kit from a place like Everything Can-Am Offroad!