​Can-Am Mud Prevention Accessories: From Fender Flares To Mud Flaps
Jul 23rd 2021
Unless you're a grubby little bugger who loves nothing more than getting down and dirty in the deep end, chances are that you probably don't enjoy having a bunch of water, mud, pebbles, and other crap getting flung up, onto, and inside your Can-Am side-by-side. Not only does this make a mess of your clothing and create more work for you during the post-ride wash, but small flying projectiles could potentially put an eye out, while water and dust are both liable to damage in-cab instruments like stereos, GPS devices, and other electronics if they weren't designed with extreme off-road conditions in mind. Luckily for those who like to ride on the wild side, there are several products out there to abate mud and block debris before it can damage you, your passengers, or your side-by-side. No matter if you've got a Can-Am Defender that you use to hunt with, a Can-Am Commander that's primarily driven on trails, or a sand-ready Can-Am Maverick X3 1000 that's nearly unstoppable on the nearby beaches and dunes, there are several mud-prevention accessories like fenders and mud flaps that one can utilize to make life both cleaner and easier in the field, around the campsite, and back at home!
Can-Am Defender Fenders, Fender Flares, And Fender Extensions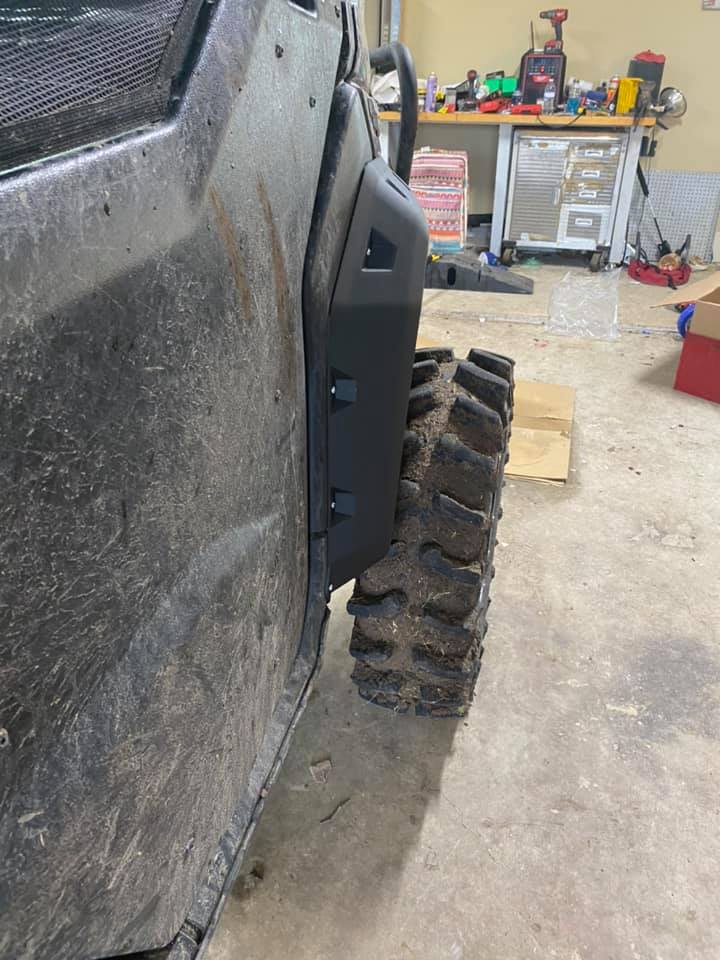 The Can-Am Defender is often used as a work vehicle, a hunting rig, or a farming machine, and the need for extreme cleanliness within these domains is typically nonexistent. That being said, however, fender kits for the Can-Am Defender do prove useful in a variety of other ways. Scratches, for example, are less likely to form on the side panels, door panels, and rocker panels of UTVs with fenders installed. So if there's a chance you might trade up for a newer buggy in the coming time, keeping the exterior of your Defender looking fresh will help immensely with regards to maximizing the future resale value.
For riders in hot climates who run their bikes without doors, with door nets, or with Can-Am Defender half doors, fenders and fender flares are a great option to prevent mud and water from splashing into the cabin. Although getting drenched with water or caked with mud isn't the biggest deal during day trips, it becomes increasingly problematic on multi-day rides when you're camping out or chilling at the deer lease. Wet clothes wick heat away from your body, which makes hypothermia more likely to set in. Plus, being soaked to the bone or even walking around in wet socks is just plain uncomfortable. So if you could avoid getting wet and dirty by installing some cheap yet effective Can-Am Defender fenders, why wouldn't you?
BRP makes a couple different fender versions for the Can-Am Defender lineup, with sport fenders that measure in at around 2 inches as well as extended fender flares that are roughly 4 inches wide for increased coverage. Riders who navigate narrow trails often opt for Can-Am Defender sport fenders to avoid snagging, while those with large lifts, wide tires, and / or wheel spacers generally choose extended Can-Am Defender fenders to achieve as much of a barrier as possible. And for those with portals, the UTV firm MudBusters has developed a set of fenders for the Can-Am Defender specifically designed to function alongside portal gear boxes!
In addition to machines with extraordinarily wide wheel bases, fender and Can-Am Defender mud guard issues can also arise when accessories like nerf bars and tree kickers are installed. Some fender kits for the Can-Am Defender come with marked cutouts on the bottom, while others utilize templates that instruct users as to where they must trim the fenders for specific brands of rock sliders, nerf bars, and tree kickers.
Can-Am Maverick Fenders, Fender Flares, And Fender Extensions
Like with the Can-Am Defender, both BRP and MudBusters offer fenders, fender flares, and fender extensions for the Can-Am Maverick, the Can-Am Maverick Trail, and the Can-Am Maverick Sport. And although the situations that one is likely to encounter will vary with each respective machine, the fundamentals remain the same. Without Can-Am Maverick fenders, things can quickly become a muddy mess in the best of conditions, with mud getting flung inside the cab, all over the seats, along the dash, and pretty much everywhere else. Those who own the 72" Maverick often go with the XL fenders by MudBusters, which are professionally bent and shaped in a way to optimize their mud-blocking capabilities. And if you're worried about them getting caught on rocks, trees, bushes, or other obstacles, you can easily trim them down if need be!
Can-Am Commander Fenders, Fender Flares, And Fender Extensions
Along with BRP fenders and MudBuster fenders, companies like RokBlockz, SuperATV, and Kemimoto also make fender kits and mud flaps for the Can-Am Commander. If, however, you want to avoid the traditional route and go with a set of home-made fenders, there are an endless amount of household items / materials that can be retrofitted and used to build your own DIY Can-Am Commander fenders.
A sheet of ⅛" ABS plastic can be cut, heated, and bent to make decent-looking Can-Am Commander fender flares that are solid, effective, and able to be mounted using the existing torx head bolts. Alternatively, a plastic trash container from the dollar store or plastic semi mud flaps can also be modified to function as Can-Am Commander fenders.
Closing Notes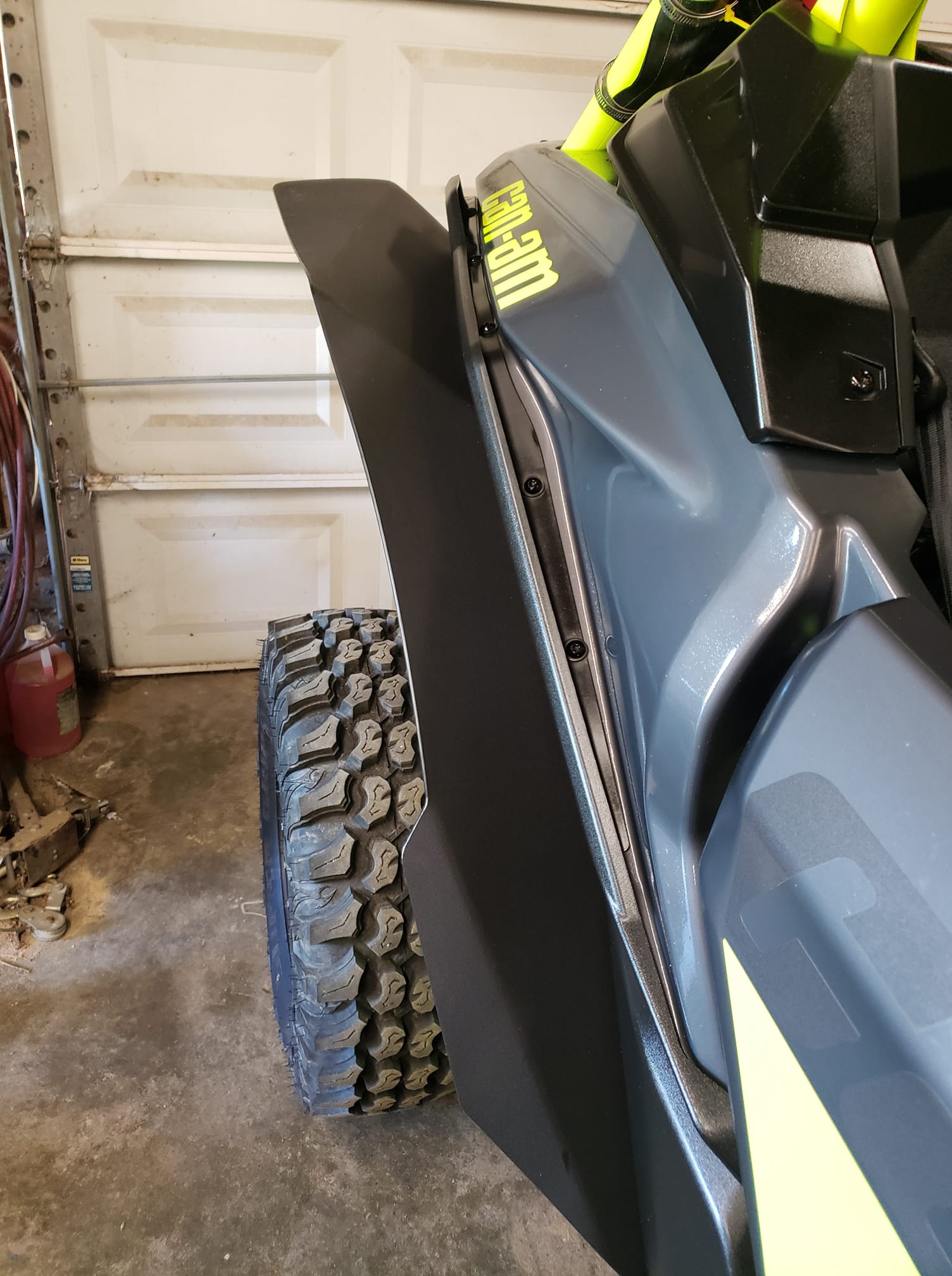 Be it to protect the tablet you use for navigation against water and mud, to prevent your wrist and shoulder from mud spatter when you're fat-arming it on a hot summer day, or to make cleaning your bike after rides a walk in the park, there are numerous advantages to running fenders and mud flaps on your Can-Am side-by-side. Making your own UTV fenders is always an option, but with so many affordable and reliable fenders, fender flares, and fender extensions available on the market today, the mud-prevention accessories like the ones at Everything Can-Am Offroad are easily justifiable and worth every penny!