Can-Am UTV Roof Review
May 25th 2021
There are a whole bunch of roof options out there for Can-Am Defender, Can-Am Maverick, and Can-Am Commander owners to choose from. And although there are a number of aftermarket side-by-side roof makers that design and build their products with both diligence and an eye for detail, when it boils down to it, the particular attributes of any given Can-Am UTV roof will ultimately determine whether or not it's right for you. Some riders want metal roofs with built-in safari racks, while others would benefit more from a low-profile sport roof that is lightweight and aerodynamic. Audio roofs for the Can-Am Defender, Maverick, and Commander are also popular, but if you've lowered your cage or use accessories like overhead gun racks on the bottom surface of your roof, the negatives of a UTV audio roof might outweigh the positives. Ultimately, you'll get shelter from the sun, rain, and snow from any hard or soft Can-Am Maverick, Defender, or Commander roof. But when it comes to on-roof storage, vertical weight distribution, and durability, you'll be doing yourself a huge favor by getting the right type of roof for your needs from the onset. And to help you with this, here is our in-depth Can-Am UTV roof review!
Can-Am Defender Roofs
A solid majority of Can-Am Defender owners use their UTVs for work-related activities -- and as such, roof storage frequently comes into play. While soft Can-Am Defender roofs and sun shades like the ones by UTV Mountain are lightweight and offer great overhead protection, they aren't the best platforms onto which you can load ladders, tools, equipment, or supplies. For on-roof storage, a Can-Am Defender metal roof will provide the strength and support you're after. The metal Lo Pro Top by Fortress as well as the Can-Am Defender steel roofs by Rage Fab, Armor Tech, and Kolpin are all quality Can-Am Defender tops for those who demand unyielding strength and damage resistance. Not only will Can-Am Defender aluminum roofs and steel roofs support accessories like Can-Am Defender roof boxes and Can-Am Defender roof racks, but they'll also hold up after impacts with tree branches, falling rocks, and the ground itself should you ever roll your vehicle.
Firms like Triple C Welding and Deep South Products can also hook you up with metal and Can-Am Defender diamond plated roofs. But if you go with a custom Can-Am Defender roof, there's a good chance you'll severely limit the rear windscreen and front windshield options available to you. So if you're looking for a roof to use when hunting, or something to run at the local mud park, a Can-Am Defender sport roof or another style of Can-Am Defender plastic roof would best suit your needs. Be it the 60-inch-wide plastic roof with a molded cargo tray by Rough Country or the sleek and simple sport roof by SuperATV, plastic Can-Am Defender roofs are a perfect middleground between Can-Am Defender soft tops and metal tops. And if you want something to let the light shine through and allow for wide-open views of the moon, clouds, and stars, the tinted polycarbonate roof by Spike Powersports is the way to go!
Basic roofs with basic functionality are all fine and good, but some riders like to throw on Can-Am Defender audio roofs with built-in speakers, lights, and music controls. AudioFormz Inc. is a top player in the side-by-side sound roof scene. Although they're a bit pricy, they have an amazing fit and finish, and can be run in conjunction with OEM windshields, low-profile roofs, and even chopped cages. The sound emitted by an AudioFroms roof is super crisp at low levels, without any distortion when you jack the volume up to higher decibels! If you want an audio roof but AudioForms is above your budget, ProBox roofs, Thumper Fab roofs, and the under-roof sound systems by ES Mobile Audio and ST Mobile Audio are all great products that are surprisingly affordable.
Can-Am Commander Roofs
Many of the roof options for the Can-Am Defender are also available for the Can-Am Commander -- and the same logic holds for Can-Am Commander hard tops, Can-Am Commander soft tops, and Can-Am Commander stereo roofs. And although you could use a puck board from an ice rink, a 4x8 sheet of ⅛" ABS plastic, or even a piece of .080 alumium sheeting cut to fit along with some 2" mounting clamps for a makeshift DIY roof, better and easier alternatives are out there.
One such Can-Am Commander roof is the aluminum top by EMP. Unlike the OEM plastic roof which holds water and creates excessive amounts of drag, the Can-Am Commander and Can-Am Commander MAX aluminum roof by EMP has a super low profile that not only cuts through the air like a Ginsu knife, but also avoids snagging on things like tree branches. The EMP roof incorporates numerous mounts for a solid and rattle-free fitment, and has an integrated rain gutter to channel water away from the cockpit!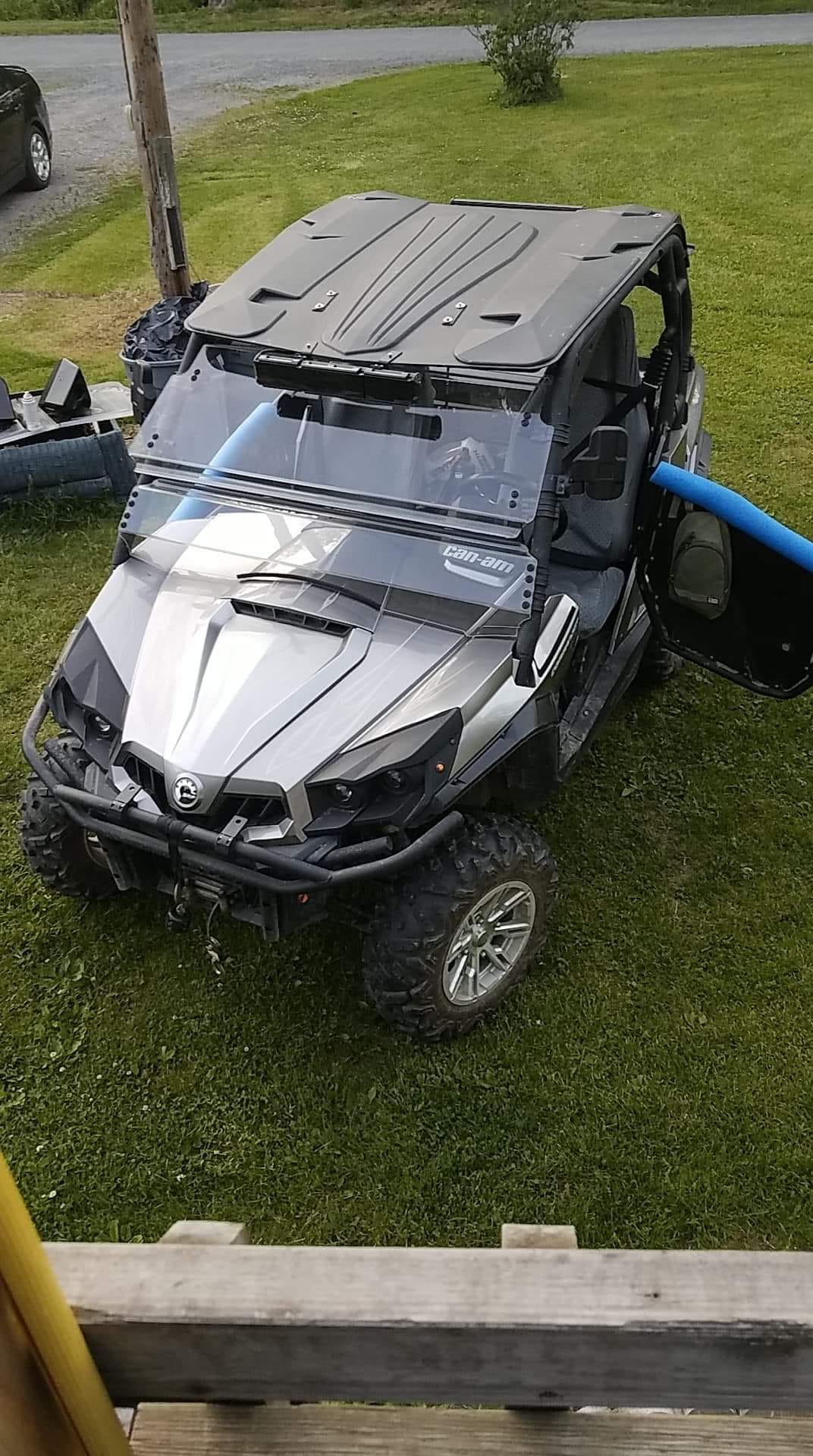 Additional roofs that riders like for the Can-Am Commander are the SuperATV tinted plexi roofs, the fabric top caps by GCL UTV, and the alunimun sport roofs by Turnkey UTV. Although you might need to trim a bit of material off of the Turnkey UTV roof to fit a flip-up windshield, this isn't a huge deal and can be done in a matter of minutes with basic hand tools. Lastly, for all the ballers on a budget who want the benefits of a hard roof without going into debt, one of the cheapest options out there is the 2-piece Can-Am Commander roof by Moose. And because the Moose roof comes with built-in storage compartments, you won't have to spend extra on a roof-mounted luggage rack!
Can-Am Maverick Roofs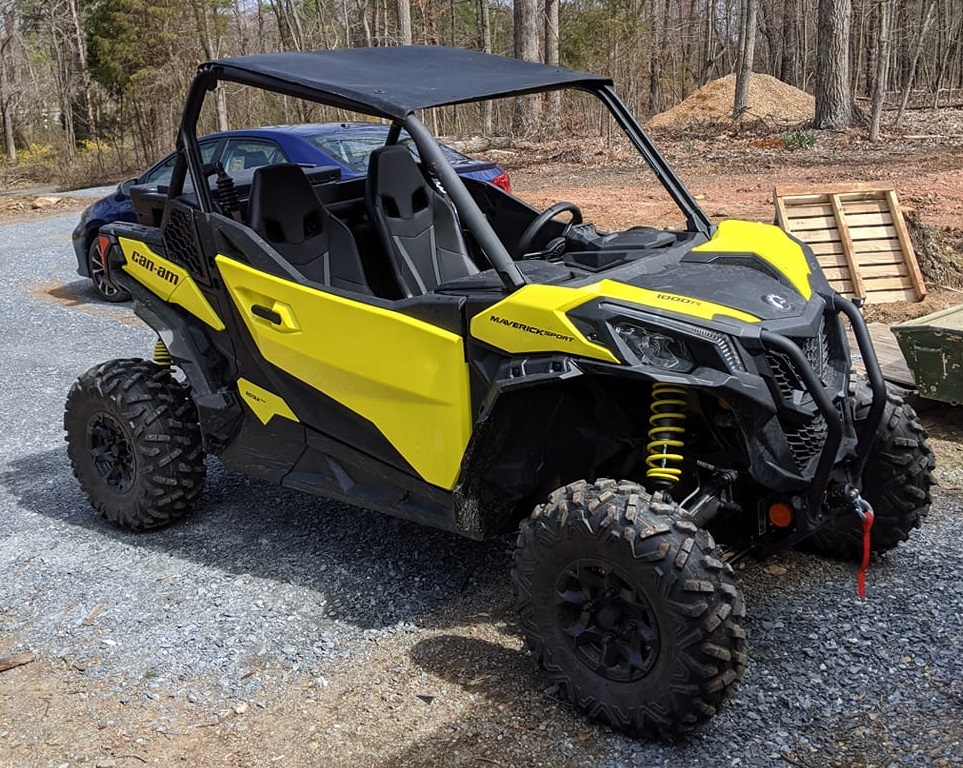 The best bang for your buck with regards to Can-Am Maverick roofs will depend on your riding needs. If you're planning a large trip and want a roof that'll support a rooftop carrier rack, both EMP as well as SuperATV make sturdy Can-Am Maverick aluminum roofs. On the other hand, if all you require is a sun shade to keep the blistering heat at bay, the Can-Am Maverick shade roof by Motoroof will meet your every expectation!
The aforementioned off-road brands AudioFormz and ProBox make audio roofs for the Can-Am Maverick, the Maverick Trail, the Maverick Sport, and the Can-Am Maverick X3. But if you'd rather add stereo components to your existing roof, Kicker / Alpine units by JL Audio or anything by Rockford Fosgate will keep you bumping till the sun rises!
Final Conclusions
In the end, there is no single roof that is superior in all ways for all Can-Am UTVs. Stronger metal roofs will always be heavier than vinyl roofs, and audio roofs will always be more expensive than a bland plastic roof. But regardless of your budget and irrespective of your requirements, all the best Can-Am UTV roofs can be found at the cheapest prices around at Everything Can-Am Offroad!