Finding the Right Tires for the Can-Am Maverick, Defender and Commander!
Jan 30th 2022
When it comes to using your Can-Am Maverick, Defender or Commander for what it's made for, Off-Roading, tires are everything. With so many different types of tires, as well as hundreds of different brands, picking out the right Can-Am Maverick tires can seem like an intimidating process.
But that ends today!
We are going to cover some of the most common Can-Am tire types, what they're used for, and even a few brands and models to make your search easier. So let's dig in, shall we?
Common Can-Am Commander, Maverick and Defender Tire Types
Although the amount of different types of tires out there can seem as confusing as sub-genres of rock music (there's a lot…), there are a few types you should definitely make yourself aware of:
Mud Tires
This type of tire's specialty is exactly what it sounds like: mud! If you consistently ride your side-by-side through muddy trails, bogs and swamp-like terrain, a great set of mud tires like the Terminator Mud Tire by SuperATV will be one of the best investments you could make.
Sand and Dune Tires
Although the mud tires we shared before will get you around in a lot of use cases, soft sand and dunes are a whole different animal. With mud tires, or even all-terrain tires, you may find yourself spinning the wheels so much that you dig your Can-Am Commander into holes too deep to climb out of!
No, sand and dunes require a much different set of tires.
Specifically, the rear tires will require a paddle-like set such as the Can-Am Commander Dune Rear Tire by Pro Armor.
And the front tires could benefit greatly from a set specifically designed for front tires driving through sand and dunes, such as the Sand Lite Front Tire by Tusk which have a unique shape and tread pattern that will help you to steer and navigate in even the softest sands and dunes!
Rock Crawling Tires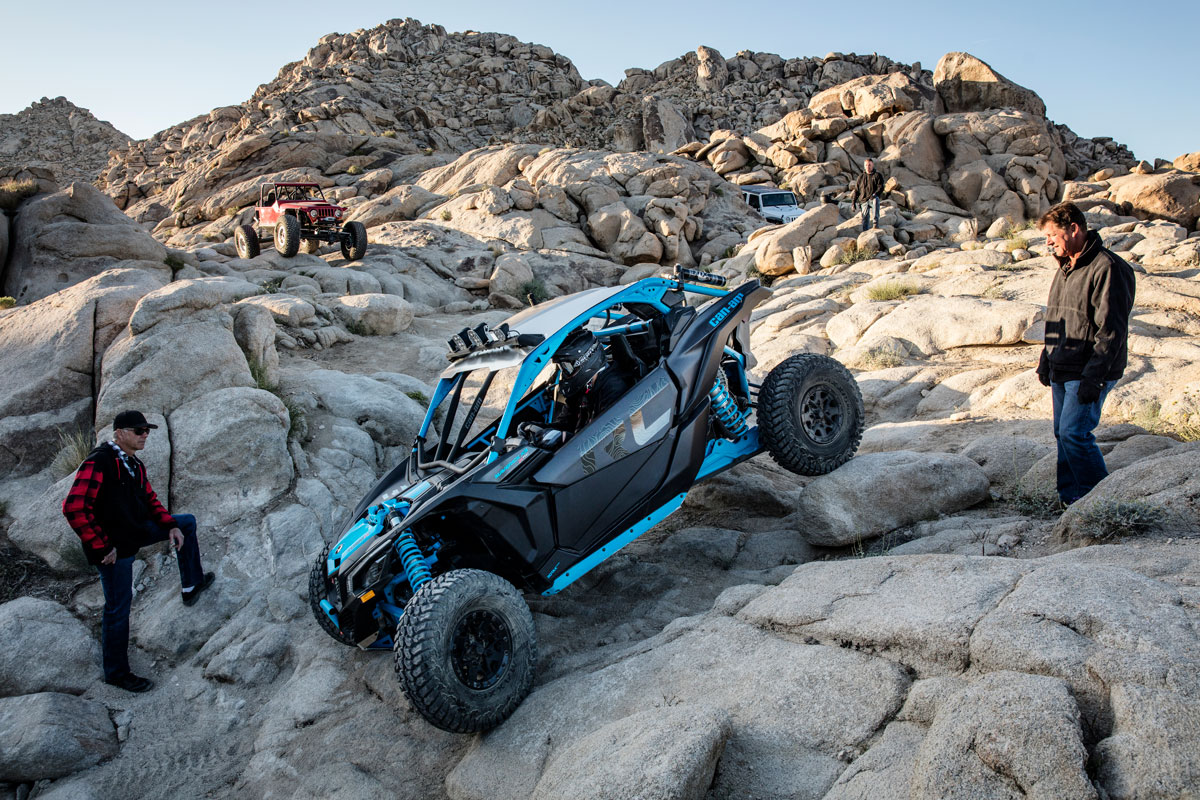 If you are one of those rock crawling enthusiasts that finds themselves crawling as a pastime every weekend, or ending up at Moab on a regular basis, then upgrading your stock tires to a set of Can-Am Defender rock crawling tires will be key.
Tires like the Can-Am Offroad Roxxzilla 8-Ply Radial Tire - 14 Inch by Maxxis have a softer tread pattern that allows for more grip, as well as a smoother ride over hard surfaces. Tires meant for crawling will also usually have a multi-ply side wall like the ones made by Maxxis, which reduces the likelihood of tears from the environment.
Stock Can-Am Tire Replacements
Just like with any off-road vehicle, the stock tires on most of the Can-Am side-by-sides can leave much to be desired.
Even if you don't use your Maverick, Defender or Commander in any of the scenarios we have covered so far, you can still benefit greatly from upgrading your stock tires.
A better set of all-terrain tires such as the Can-Am Offroad Liberty 8-Ply Radial Tire by Maxxis will give you better traction in every scenario you can put your UTV in. With a longer lasting, super deep tread pattern, you can rest assured tires like these will keep your Can-Am side-by-side rolling anywhere you want to take it for a lot longer than the stock tires could!
Can-Am Maverick, Commander and Defender Wheels
Now that you've got a better idea of what tires you want to upgrade to, lets talk about wheels!
Your stock Can-Am Maverick wheels, for instance, may not fit those huge new mud tires. Likewise, that awesome set of dune tires may need a larger or smaller set of Can-Am Defender wheels to mount them to.
Thankfully, picking out wheels is simpler than most think, and we have a ton to choose from here at Everything Can-Am Offroad:
Just match up the size info from the tires you are going to purchase with the respective size of the wheels you are interested in... it's that simple!
Hopefully this quick breakdown of Can-Am tires and wheels helps you in your search for replacements for the stock tires and wheels your UTV came with!