Should I Get a Full, Half, or Folding Windshield?
Dec 14th 2020
Nothing saps the thrill out of marauding around in your Can-Am Maverick X3 quite like an inferior windshield. Whether it's perpetually dirty, poorly fitted (and rattling), or a combination, the wrong windshield can seriously put a damper on a day of work or play. To meet the needs of our increasingly diverse riders, the Everything Can-Am Offroad team is prioritizing more than quality alone when it comes to Can-Am Maverick windshields. We're bringing you the best variety as well, including folding, half, and full UTV windshields from brands like EMP, UTVZilla, Moose, and more so you never have to compromise.
With so many options, the next logical question is, which type of Can-Am Windshield is best for my situation – full, half, or folding? We figured this would be an excellent opportunity to tout or wares and break down the benefits of the three windshield types at the same time, so let's do just that.
When Full Is the Right Call
You don't need arctic or otherwise extreme conditions to justify a full Can-Am Maverick windshield. Obviously, going full is indeed the best choice when you're working with weather/temperature extremes for purposes of insulation and protection, but there are plenty of other reasons to commit to this type of windshield. If you ride at high speeds regularly, for example, you will definitely want something to get between that stray rock and your 40-mph-traveling face.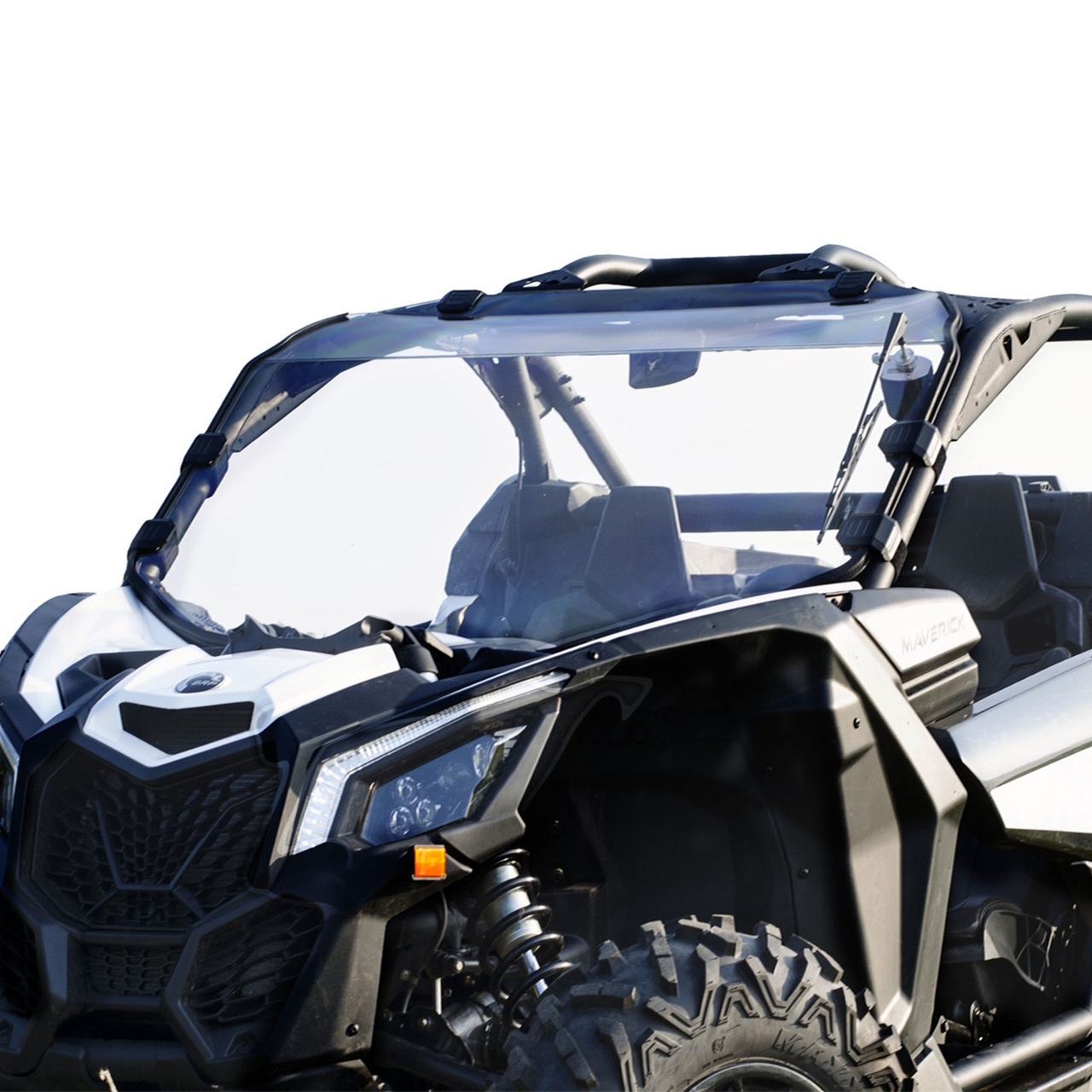 Full windshields are also instrumental for riders who want to protect their interior and/or equipment when storing or parking their Can-Am Mavericks, especially if it will be a while before you're on the trail again. Finally, full windshields can improve safety and visibility on the road by helping you reduce squinting via glare reduction and just plain old getting the wind out of your face.
A fitting ambassador for this type of windshield, our Can-Am Maverick Evolution Full Windshield by MotoAlliance delivers all of the above benefits and more for riders looking to stay comfortable and protected in all conditions. Its scratch- and corrosion-resistant polycarbonate build ensures that it stays in one piece, no matter what kind of trouble you get into. With the help of optical-grade design and high-strength ABS clamps, you can also be sure that it will stay put and provide a clear view.
There is a scenario or two, however, in which a full Can-Am Maverick windshield may not be the best call for your situation. Seasoned mudders can confirm that the last thing you want to worry about when busting through muddy terrain is, "Where's that squirt bottle?" Enter the half windshield.
Half the Windshield, Twice the Utility
Though they may seem gimmicky or awkward at first glance, half windshields are an absolute godsend for mudders. Even if you aren't of the mind to intentionally steer into the muck, every UTV rider gets muddy at some point, and having a half windshield can make the difference between an enjoyable ride and a nerve-wracking one. The windshield will still get muddy, of course, as will you, but you won't have to spend your entire excursion spraying it just so you can see.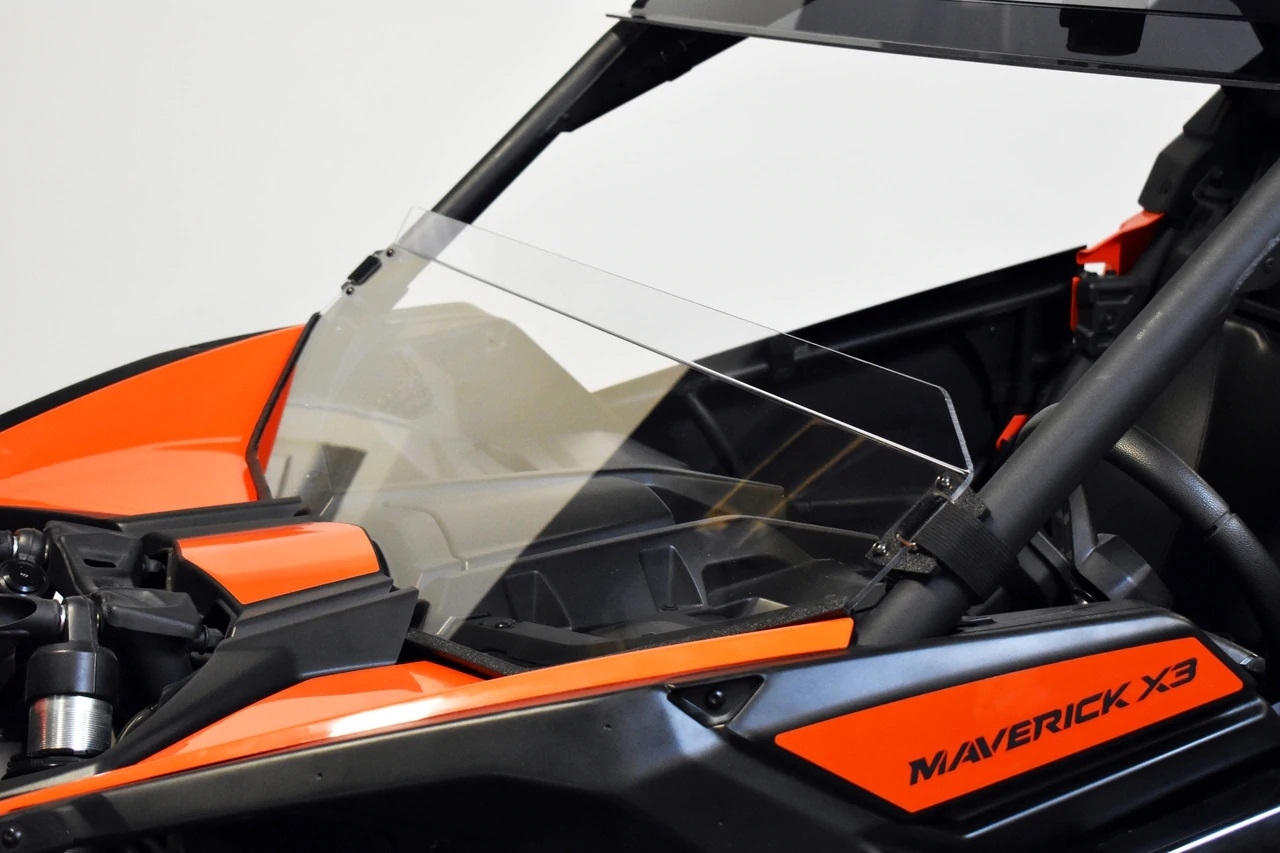 The whole "wind in your hair" shtick is a lot less romantic when the wind is either 1) battering your entire body relentlessly (no windshield), or 2) being blocked by a full windshield. Not every purchase has to be directly relevant to vehicle performance, and this is a great example. If you want the best of both worlds, you can let the breeze in and enjoy the sunshine while shielding yourself from mother nature at the same time.
We're partial to the Can-Am Maverick X3 Half Windshield by UTVZILLA for a number of well-founded reasons. First and foremost, this practical windshield is CNC-cut for an inch-perfect fit. It's fully polycarbonate for durability, and thanks to the completely rubberized seal, you don't have to worry about noise, even at high speeds. Our favorite feature of all is the quick strap mounting setup that makes fitment and removal quick and totally painless.
That's all good and fine, you might be thinking, but what about year-round riders? What about riders who are on the farm one day and the track the next? That's where folding windshields come in.
Folding: Why Choose at All?
By definition, folding windows are the most versatile option in this product category. Some are more versatile than others, depending on how much freedom they give you in terms of available tilt angles, but they all offer the compelling prospect of riding with nothing, a full windshield, or a "quasi-half" windshield (oftentimes, it's more like three quarters).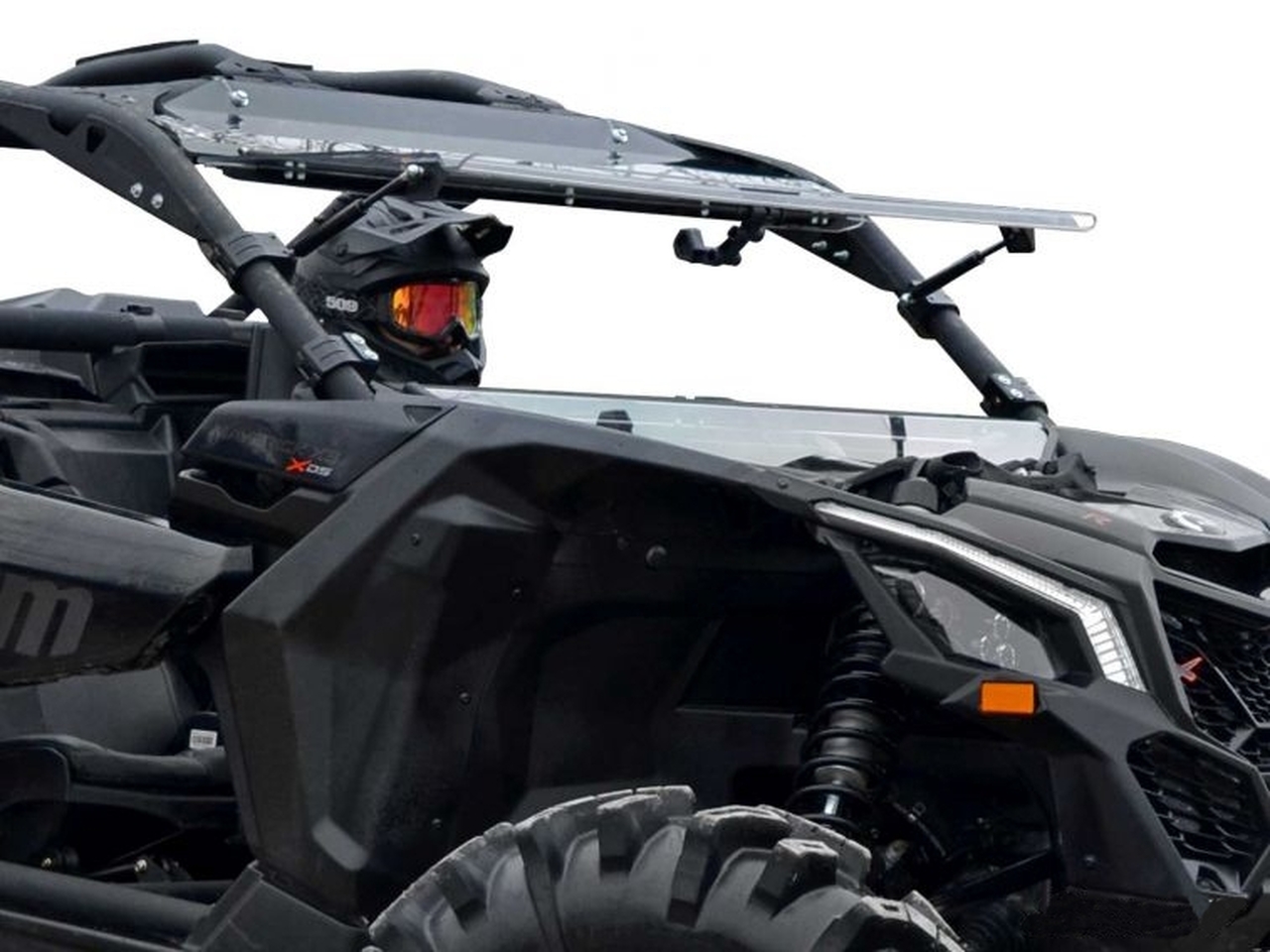 Some riders are still averse to this decision because some folding windshields have damaged hoods in the past, but that's just it – for quality brands like those that we showcase, this issue is a thing of the past. Quality brands have worked around this issue by providing rubber stoppers or other protective mechanisms, just like they worked around the old DIY nightmare of separately sourcing the right clamps, brackets, and so on. All in all, Can-Am Maverick folding windshields are simply the best option for anyone who's ever said "Well, I'm not sure which kind of windshield I need since I ride in so many different conditions." Take the Can-Am Maverick X3 Flip Windshield by SuperATV for example. This scratch-resistant, ¼" polycarbonate powerhouse will truck through debris in any of its three settings (closed, vented, and open) without any problems whatsoever. We also heavily appreciate how it comes preassembled, so you can simply mount and be done with it. Best of all, you don't have to compromise on quality or options anymore just because you're going with a folding windshield. You can get hard-coated or non-hard-coated versions, and this one will work with a hard or soft top. If it's what you need, Everything Can-Am Offroad and brands like SuperATV are teaming up to bring it to you at maximum value and minimal hassle.