The Best 2021 UTV Events For Can-Am Owners
Jun 7th 2021
Riding a UTV by yourself or with a couple close friends is rarely going to be boring. But if you're wanting to get out there, expand your horizons, and get more involved in Powersports community, there are many off-road UTV events in 2021 that you can attend. And although most of the off-road events in 2020 were canceled, the 2021 UTV events that are in the pipeline are set to be nothing shy of spectacularl. So don't miss out and bring your Can-Am Maverick, Can-Am Commander, or Can-Am Defender to an upcoming UTV event near you!
February 2021 UTV Events
Cajun Muddy Gras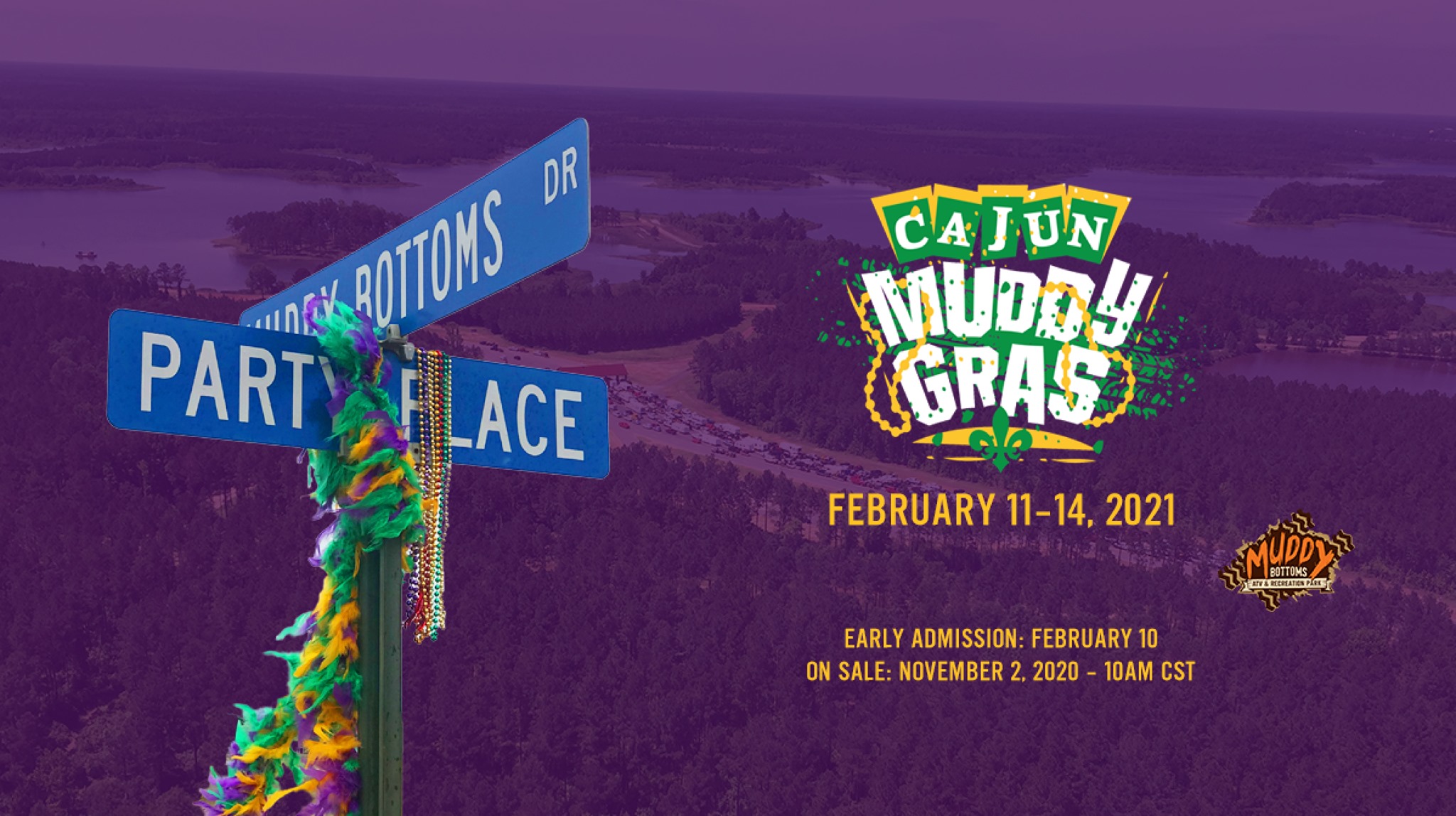 Starting the year off on a good note is always advised. And this is great, because the Cajun Muddy Gras event held between February 11th and February 14th at the Muddy Bottoms ATV & Recreation Park in Serpenta Louisiana is one of the top gatherings of UTV enthusiasts out there. The event was presented by Can-Am in 2020, which presented Can-Am owners with a great opportunity to both see other Can-Am editions as well as chat with fellow Can-Am side-by-side owners. Can-Am is again sponsoring the Cajun Muddy Gras in 2021, and so too is SuperATV, Valveworks, and number of other off-road brands that you know and trust. Not to be mistaken with similar events like the Mardi Gras Muddfest at the Creekside Offroad RV Ranch in Splendora TX, the Cajun Muddy Gras in Sarepta LA will be chalked full of fun and excitement, and include activities like parades, music, and of course, olympic-size swimming pool loads of mud!
Mardi Gras Ride
Located near Neches River in Jacksonville TX, the River Run ATV Park offers a helluva good time no matter what day off the week it is. But between February 18th and February 21st, the park really comes alive during the annual Mardi Gras Ride. The entrance fee for River Run's 2021 Mardi Gras Ride is $55, but once inside the park, you'll have unrestricted access to trails, features, and unbeatable good times with events like poker runs, bounty holes, treasure hunts, and a Mardi Gras parade!
Kanrocks Frostbite
The one-day-only K-Rocks Frostbite event that takes place annually -- and on February 27th in 2021 -- at the Kansas Rocks Recreation Park is an excellent way to start your riding season off with a bang! As evident by the name of the event, it can get a bit chilly during Kanrocks Frostbite, but with thermoses full coffee, free apple cider, hot food, and warm company around every turn, you're sure to stay comfortable at Kanrocks Frostbite even without accessories like cab enclosures and Can-Am heaters!
March 2021 UTV Events
Mud Rodeo
Kicking off the month of March like a Bruce Lee in his prime is the Mud Rodeo hosted at the Rock Creek Racing and Recreation Off-Road Park in Booneville Arkansas. This family-owned ORV park includes nearly 365 hectares of woods, mountains, creeks and pasturelands, with elements ranging from rock gardens and mud pits to a drag strip and a motocross track. This opportunity only crops up between March 5th and March 7th, so don't miss your chance to throw down and show up to the 2021 Mud Rodeo this year!
Muddy Bug Bash
Transpiring the same weekend as the Mud Rodeo, the 4th annual Muddy Bug Bash in Leakesville Mississippi offers something that other UTV events seldom provide -- free crawfish! But if you want to attend a UTV jubilee with concerts, sandbars on the river, rental cabins, and mile after mile of sloppy southern mud, the Muddy Bug Bash held at the Wild Country Off-Road park is an event that must be attended -- just make sure you've packed your mud tires!
Shamrock Shakedown
The Shamrock Shakedown is held at WindRock Park in Oliver Springs Tennessee during St. Paddy's day -- March 18-21. Presented by Titan OffRoad, the gates for the 4th Annual Shamrock Shakedown open at 3pm on Thursday, so don't be late. If you're not the most punctual person out there, don't worry, because there are plenty of camping spots available! In addition to live music, quality conversations, and an all-you-can-eat buffet of off-road delicacies, a raffle is also conducted at the Shamrock Shakedown where you can win anything from medical kits and bump stops to Rotopax fuel packs!
Rednecks With Paychecks Spring Break
The March 18th-21st spring break event hosted at Rednecks With Paychecks Off-Road in Saint Jo TX is where redneck riders can go to get down and dirty. With bounty holes, tug-of-war competitions, and mud crawls that offer cash prizes, you might even end up coming out of the event a bit more loaded than you where when you came in! For a hootin-n-hollerin holiday this spring, the Rednecks With Paychecks event is your surefire way to partake in off-road pandemonium!
SuperATV Mudd Mayhem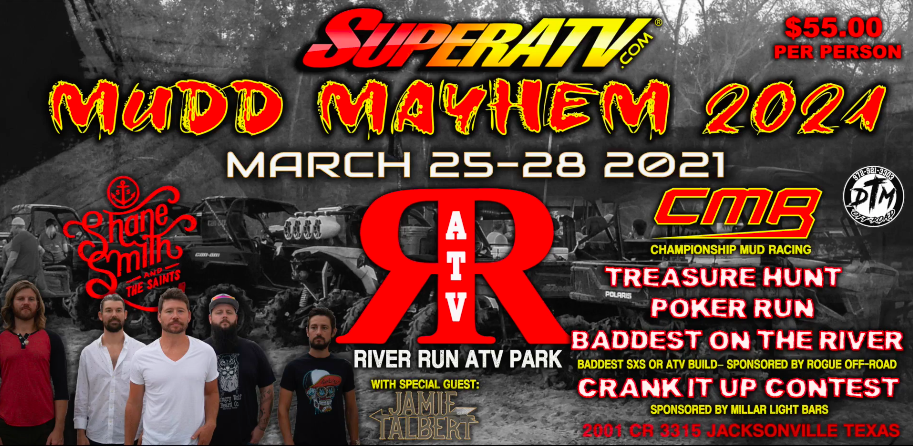 After the Mardi Gras Ride, the next event held at River Run ATV Park is going to be SuperATV's Mudd Mayhem on the 25th and 26th of March. On top of activities like their "Crank It Up Contest" sponsored by Millar Light Bars, "Baddest On The River" sponsored by Rogue Off-Road, and a championship mud racing circuit to separate the wheat from the chaff, the 2021 Mudd Mayhem is also going to have live music, treasure hunts, and poker runs!
If you can't make it to Mudd Mayhem this March, don't fret, because SuperATV also sponsors an event called Mudapalooza that takes place over the Memorial Day weekend at Muddy Bottoms ATV Park; Rally in the Pines in Salmon Idaho between July 15th-18th; and the Sand Sport Super Show in Scottsdale Arizona starting September 17th!
Riding For A Reason
Not every UTV event for Can-Am owners in 2021 is all about partying and getting down. Case in point, the Riding For A Reason event to raise awareness for colon cancer at the Bass River Resort in Steelville Missouri. The 6th Annual Riding For A Reason Spring Ride takes place on March 26th and 27th, with packages for adults, kids, and entire families. Be a philanthropist and put the pedal to the metal at the same time by joining the Riding For A Reason 2021 Spring Ride!
Backyard Mud Fest at Tower Trax ATV
Comprised of a trail network that spans over 40 miles on 2,600 acres of the roughest country around, the Tower Trax ATV Recreation Park in Fulkner Louisiana is a mecca for off-roaders of all kinds. Aside from the raw natural splendor, Tower Trax ATV Recreation Park is also home to bathhouses, concession stands, bike wash stations, RV hook-ups, oval tracks and mud drag complexes, and 5 different mud hazards! Come to the Tower Trax for the Mud Fest, then return again in June for the Bounty Hole Bash that boasts a Friday-night foam party, a VIP pool party, concerts, and more!
Ride For Reid
Like the Riding for a Reason gathering, Ride for Reid is an event that is also organized for a good cause. It takes place March 26th-28th at Adventure Off Road Park in South Pittsburg Tennessee. You can make a charitable donation at Ride For Reid, or simply show up to your support!
Kanrocks Night Run
After freezing your butt off Kanrocks Frostbite, you can come back to Kansas Rocks Recreational Park on March 27th to experience the Kanrocks Night run -- just make sure to have your LED lights and light bars in working order! If you can't make it on the 27th, Night Run events at Kansas Rocks Recreation Park also take place on July 24th as well as August 21st.
April 2021 UTV Events
High Lifter Mud Nationals
In the early days of April (the 7th to the 11th to be exact) the self-proclaimed largest mud party in the world breaks ground at Hillarosa ATV Park in Blevins AR. Hosted by the event segment of High Lifter, the 2021 Mud Nationals event is set to be more epic than the prior years's Mud Nationals. And if you like the vibe at High Lifter's Mud Nationals event, head on up to Minnesota and join in in their June 9th-13th Off-Road UTV Rally! Partake in the action or sit back and watch as professionals perform awe-inspiring stunts before your very eyes!
Rattlesnake Hunt
On the weekend of April 9th, the Waynoka Rattlesnake Hunt comes to pass at the Little Sahara State park in Oklahoma. And if catching rattlers isn't particularly your thing, this event has something for the whole family to enjoy, be it carnival rides and local food stalls or snake shows performed by the nations best snake charmers!
International Mud Riders Convention
After the excitement of Cajun Muddy Gras fades away, you can make your way back to the Muddy Bottoms ATV and Recreation Park in Sarepta LA for the 2021 International Mud Riders Convention on April 22nd-25th. Get over there to enjoy the nice spring weather, and capitalize on the opportunity to bust more mud obstacles than you'd ever want to.
Windrock Park Spring Shindig
If you missed the Shamrock Shakedown at Windrock Park, you've got a second opportunity to redeem yourself! The Windrock Park Spring Shindig in Oliver Springs TN is one of the biggest outdoor country concerts in the Southeast US! Ride like a madman during the day, then rock out to some live country music all night long.
Busco Beach Mud Bash
Mud Bash week at Busco Beach & ATV Park in Goldsboro North Carolina is your chance to show what you've got and potentially earn a few USD in the process. Following the mud races, you can enter the Bounty Hole contest for a chance to win $750! And if you're decently lucky, you could potentially win the May 2nd cash giveaway of $2,500! Come for the day or make it an outing that lasts an entire week; either way, you're going to have fun regardless at the Busco Beach Mud Bash!
Mud Jam 12
Between April 29th and May 2nd, River Run's Mud Jam 12 event takes place in Jacksonville Texas. There'll be a treasure hunt at the event, a poker run, an "Engine and Egos" bounty hole series, live music, and much more. So if you're in the vicinity and after some high-flying entertainment, the Mud Jam 12 won't disappoint!
UTV Rally Mormon Lake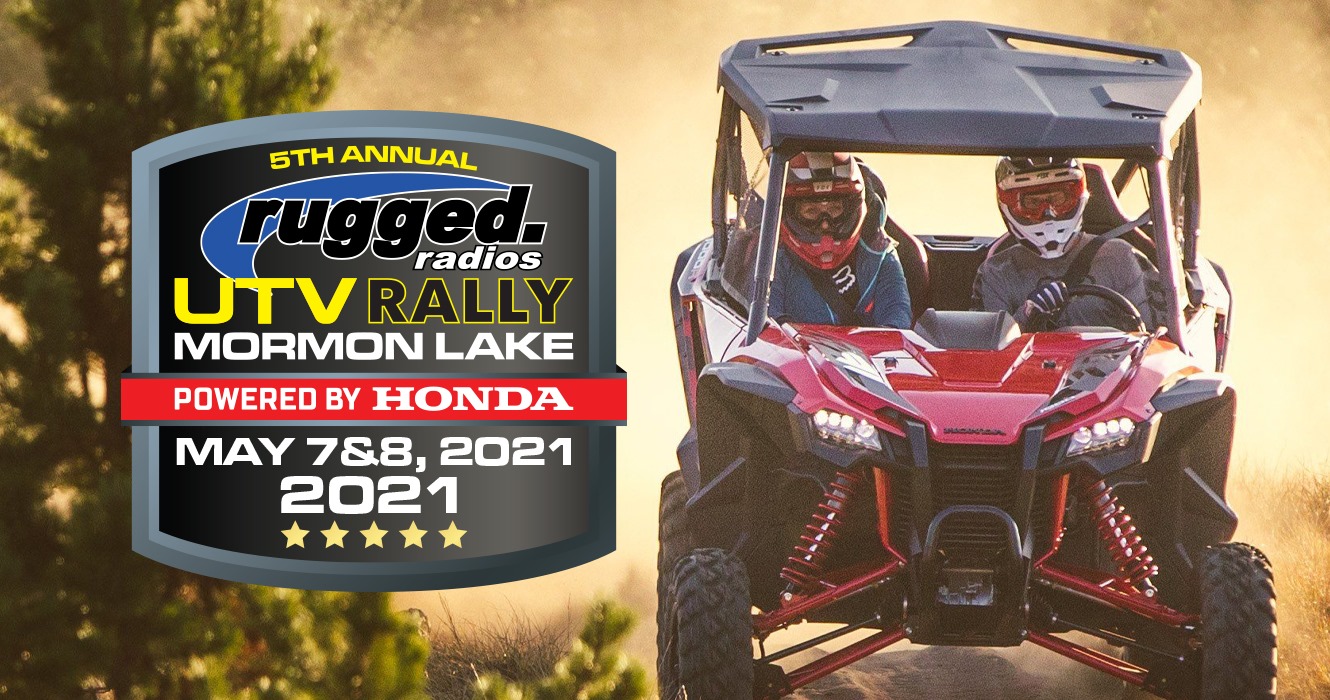 With everything from campouts and s'mores to freebies and vendor huts, the 5th annual UTV Rally at Mormon Lake sponsored by Rugged Radios is guaranteed to be an affair for the record books. The event takes place May 7th and 8th at Mormon Lake, Arizona. You can run the demo course in your Maverick X3, check out the latest accessories for your Defender, or watch the always-entertaining "run-what-you-bring" Hooptie races!
May 2021 UTV Events
Rally On The Rocks
For all you Can-Am Maverick RC and Can-Am Commander Trail owners out there with an eye for rock crawling and balls of steel, the Rally On The Rocks ride in Moab Utah from May 11-15 is a hardcore event that offers both technical trails and milder rock features. Since street-legal UTVs are permitted in Utah, you can drive your side-by-side directly to the trailhead -- provided that you've got insurance as well as the requisite street legal accessories such as blinkers, mirrors, a horn, etc. Don't miss out on the unique rock features, the navigable caves, and the awesome camaraderie at the 2021 Rally On The Rocks!
June 2021 UTV Events
Redneck Rave
With mud, music, and mayhem, the Redneck Rave at Blue Holler Offroad Park is marketed as the wildest and craziest UTV party of the summer. Because the Redneck Rave goes down at the same time as the Tennessee Trail Jam between June 16th and June 20th, you'll have to make a tough decision regarding which event to attend. But if you enjoy raucous revelry and unmatched natural beauty, the Redneck Rave at Mammoth Cave Kentucky will make you feel right at home!
UTV Takeover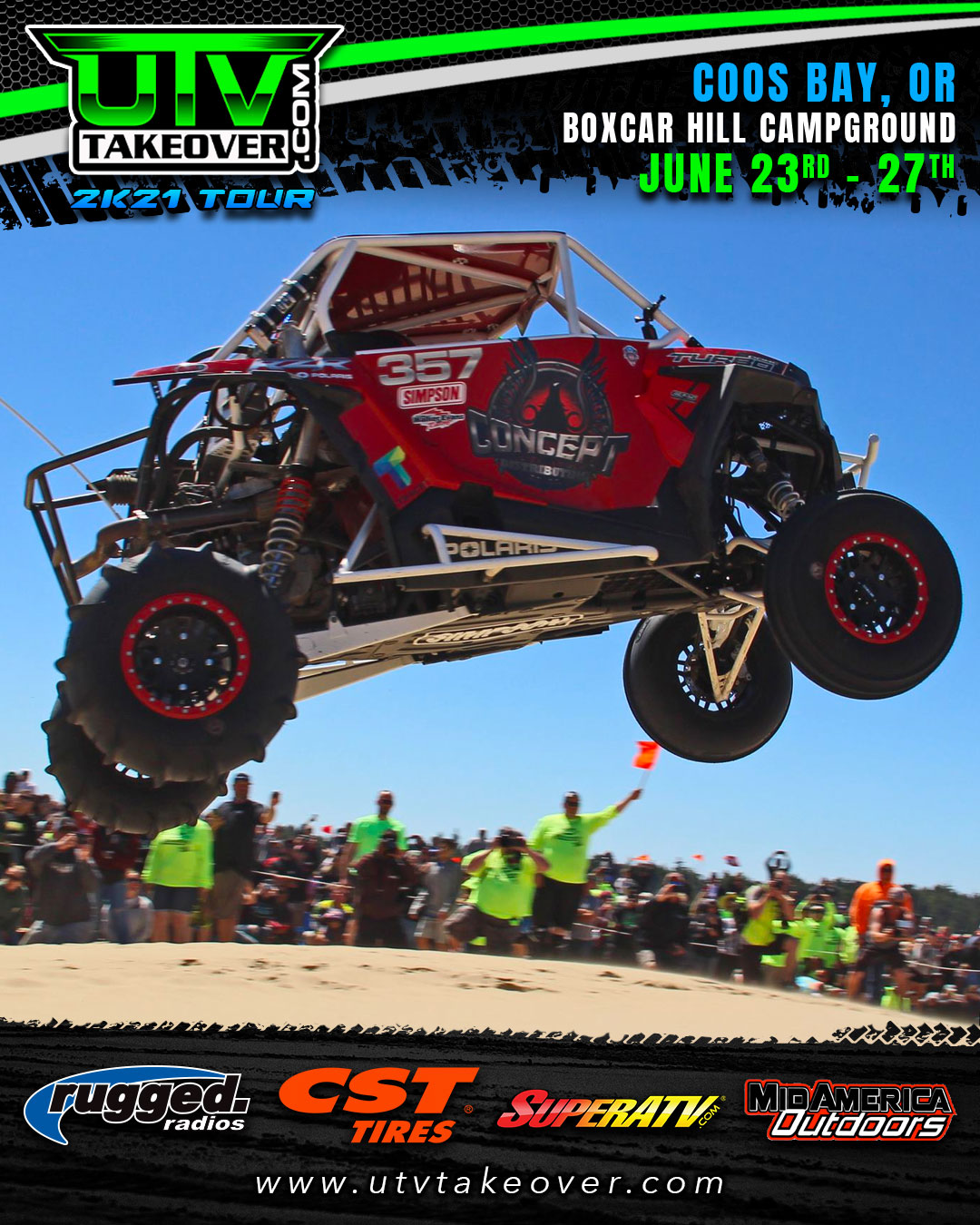 UTV Takeover is alleged to be the biggest tour of UTV events in America, and on June 23rd through June 27th, it's coming to Coos Bay Oregon whether you like it or not! The picturesque destination is breathtaking, the activities are exhilarating, and the tickets for general admission are only 25 bucks! Watch the Huckfest, Wheeliefest, and Sand Drag events, then make your way to the cornhole tournament to test your aim and hand-eye coordination. Head over to the Stereo Wars section sponsored by MB Quart to jam out, then mosey on down for a little happy hour near the main stage. Wherever your interests lie, UTV Takeover offers a little something for you. And if you can't make it to the June event, it happens all over again on July 28th to August 1st in Grundy Virginia, on September 8th-11th in Waynoka Oklahoma, and on October 20th-24th in Hurricane Utah!
July 2021 UTV Events
Heroes On The Dunes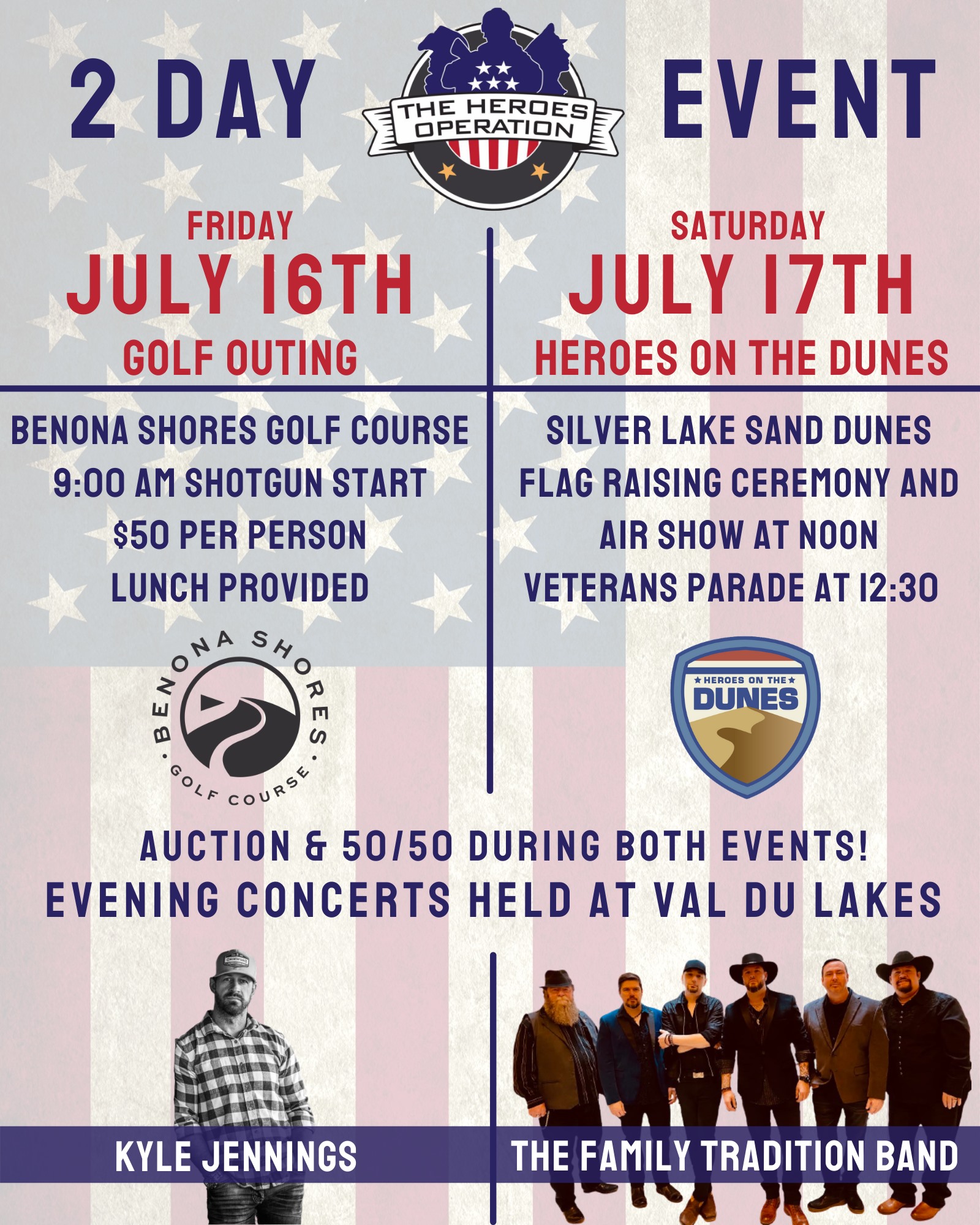 On July 16th and 17th, Heroes On The Dunes is planned with an aim to pay homage to America's injured soldiers and their family members at the Silver Lake Sand Dunes in Mears Michigan. There will be honored guests, a "Heroes Dinner", and a handful of other activities like a parade down Lake Michigan beach. Even if neither you nor your loved ones have served, you can still attend to pay your respects at Heroes On The Dunes!
November 2021 UTV Events
SxS Adventure Rally
Right after UTV Takeover culminates in Hurricane Utah, the 2021 SxS Adventure Rally commences at Sand Hollow State Park. Registration for this event opens July 1st, so order your tickets as soon as possible to get first priority! The trials in the area are rocky and scenic, so adjust your shocks and springs accordingly and bring your binoculars!
December 2021 UTV Events
The Mint 400
Before you make your holiday plans for Thanksgiving and Christmas, have a look into The Mint 400 that goes down December 1-5 in Las Vegas / Primm Nevada. Join as an onlooker or sign up as a racer, but don't get stuck in the cold this winter by making your way to Sin City for some hardcore UTV raceing!