The Best Sound System Setup For The Can-Am Commander
Feb 9th 2020
Depending on who you ask, you're probably going to get multiple different answers, opinions, and suggestions vis-à-vis the best way to play music and other forms of audio in the Can-Am Commander. While soundbar-style Can-Am Commander stereos are sleek and easy to install, they can't rival other styles of Can-Am Commander sound systems. Things like overhead sound systems are similarly sleek and streamlined, but more complex than a simple sound bar. On the higher-end, full Can-Am Commander stereo kits with multiple speakers, subs, and amplifiers dispersed throughout the cabin can also be installed for the highest sound quality and maximum decibel output. Regardless of your budget or the other aftermarket accessories you have already installed in your machine, there are many great options for Can-Am Commander sound system setups!
Inexpensive Can-Am Commander Sound Systems Options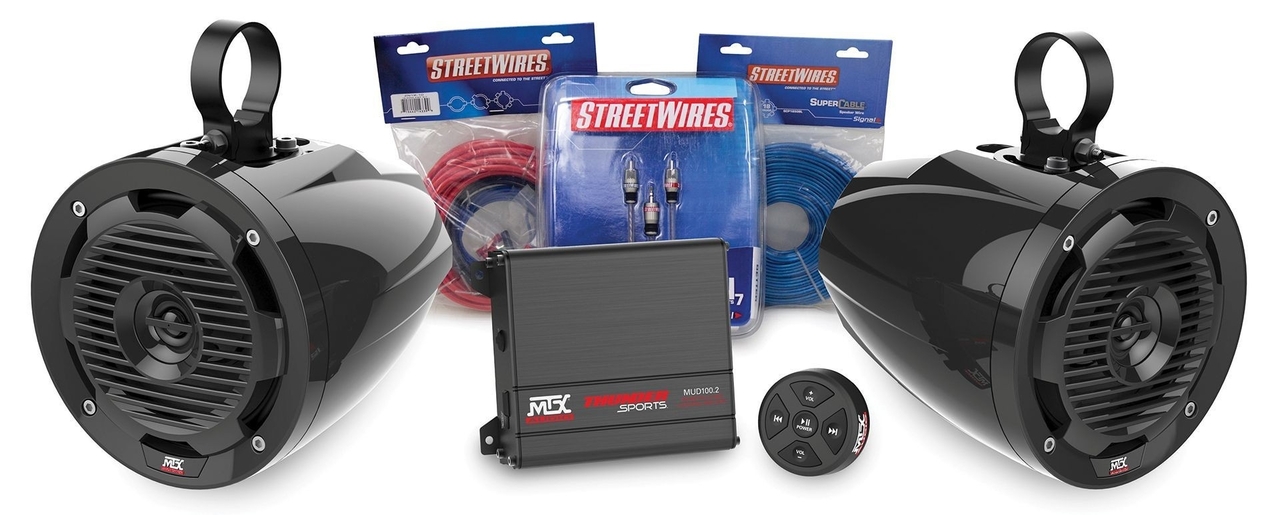 One of the cheapest ways to play music in the Can-Am Commander is to bring along your cousin Billy-Bob who plays the banjo. Alternatively, you could set your smartphone upside-down in a glass cup to amplify its small internal speaker. Using headphones, headsets, and earbuds is another simple and cheap way to listen to music and voice communications when you're on the trail. But if you want the best bang for your buck when it comes to Can-Am Commander sound systems, better options are available that let you share the listening experience with others.
Front speaker pods by companies like Bad Dawg and SSV Works aren't too expensive, and the Cooter Brown side-by-side stereo unit from EMP also puts out a decent amount of sound for the price. And while cheap Boss audio tubes can be purchased at places like Walmart, which plug into your cigarette outlet and sync to your smartphone's bluetooth, these are generally not waterproof, shockproof, or able to withstand the bumps and vibrations that are almost unavoidable during off-road rides.
Even lower-end UTV sound bars are better for off-road applications than the higher-end units designed for indoor use. The JBL Stadium UB4100 Powersports soundbar, for example, not only provides the user with handsome sound, but it also comes with an interior light to illuminate the cab of your side-by-side, and a GoPro stand for capturing all your high-adrenaline stunts.
The Memphis soundbar is another cheap option that is more than enough for most casual listeners. Although it doesn't have a lot of bass — and most soundbars don't compared to bigger Can-An Commander sound systems — it provides great quality sound nonetheless. Plus, 4x4 sound bars like these take up very little space in the cockpit of your Commander, and generally don't draw excessive amounts of amperage.
Wet Sounds soundbars are common amongst Can-Am Commander 1000 and Can-Am Commander 800 owners, but many riders reckon that if you are going to spend that much for a sound bar, the Powerbass 1200 is a better option with crazy loud capabilities, superbly clear sound, and a streamlined installation. Before you decide on a soundbar, however, you should take into consideration potential fitment issues with aftermarket roofs, windshields, and rear windscreens. The last thing you want is to have to mess around with mounting hardware or retrofit your own stereo brackets just to make your soundbar fit properly.
Roof Stereos For The Can-Am Commander
For a Can-Am Commander stereo setup that is powerful yet out of the way, accessible yet non-obtrusive, an overhead Can-Am Commander stereo unit is the way to go. Unlike their cage-mounted speaker boxes — which barely fit on an RZR, yet alone a Commander with angled support bars — many Can-Am owners really enjoy the stereo tops by Audioformz. You can use them as is, or upgrade the speakers to some 6x9 Rockford Fosgates!
Like Audioformz, J Strong Industries also makes a great overhead audio system for the Can-Am Commander, equipped with built-in speakers, an infinity head unit, interior lights, and bluetooth as well as AM/FM and AUX inputs. Companies like ProBox and Southern Sounds also make good Can-Am Commander roof stereo systems, but it all just depends on what you need and what you can afford.
Complete Stereo Kits For The Can-Am Commander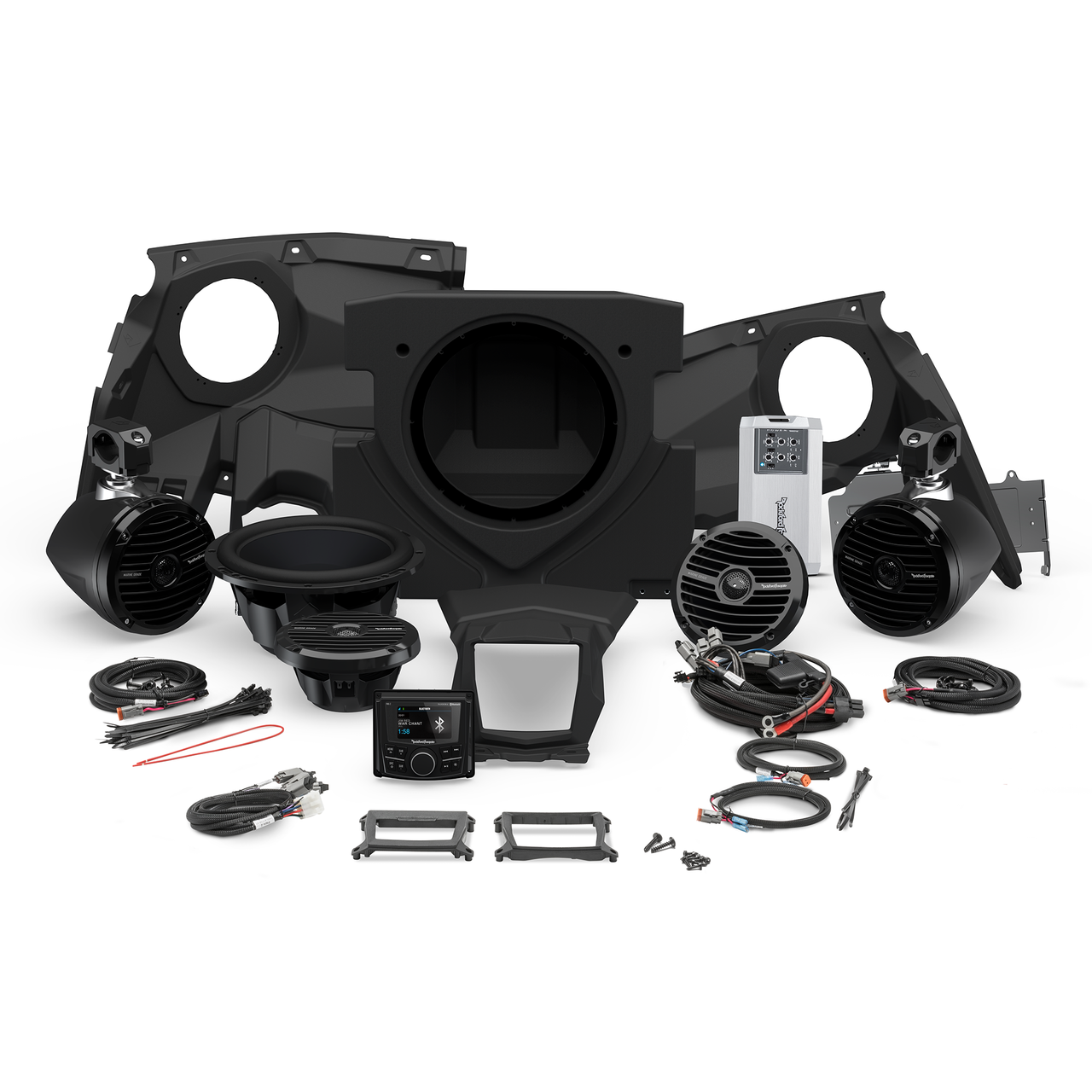 Full audio systems for the Can-Am Commander can get expensive, but for those who prioritize sound quality over cost, companies like Swamp Donkey, Froghead Industries, and Mayhem Manufacturing offer high-end stereos and stereo gear that will make your rig bump like nothing else on the trail. The Noam kit is another great Can-Am Commander sound system option, and riders frequently mix and match various parts from different sound accessory providers.
For example, a great audio system could include two Noam 5.25" speakers mounted on the rear roll bar set for low range, two 5.25" Polk audio speakers on the front roll cage pillars with the Bad Dawg speaker pods, and a 10" subwoofer by SSV under the drivers seat. A system like this sounds way more natural than other types of side-by-side audio systems, as the music faces you from the front rather than screaming at you from behind.
Be it an expensive Can-Am Commander sound system, a cheap Can-Am Commander sound system, or something in between, the right audio setup for you and your UTV will depend on what you want, what you care about spending money on, and the space available in your side-by-side!