The Importance Of Keeping Your Can-Am Clean
Dec 29th 2019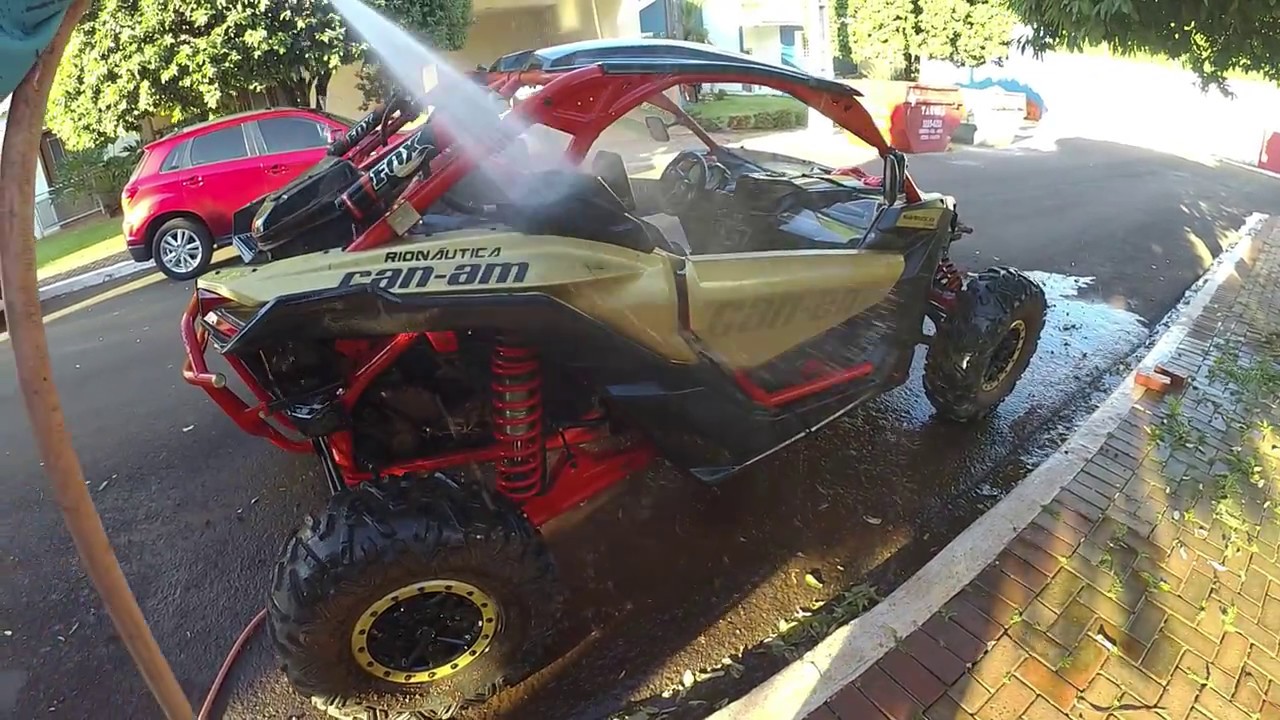 No matter where you ride, you're bound to get your Can-Am at least a little dirty; it's just part of the game. And while the mud and dust may be inevitable on the trail, it doesn't have to stick on there forever. Even riders who don't particularly care how their rig looks, preferring function over form so to speak, should still take care of their machines. Be it a $50 bike or a $20K UTV, taking care of your stuff surely makes things last longer.
Sure the exterior appearance may not be important to some riders, but the dust and mud on the outside can lead to faster wear and tear on internal components, causing grit to build up and forcing side-by-side owners to make replacements more frequently. So whether you're getting your Can-Am Maverick ready for an Instagram photoshoot or trying to clean the engine and transmission of your Can-Am Defender workhorse, keeping your UTV clean provides more than aesthetic benefits.
Cleaning The Seats Of A Can-Am
Many Can-Am owners have noticed that the seats on their rigs are very porous. These pours are great at making the seats not slippery when wet, but they also make the seats quite tricky to clean. Things like seat covers can act as a preventative measure to halt unnecessary wear and tear, but what can one do to get stains out of Can-Am seats?
The purple or green tire cleaner or foaming tire spray at your local car wash will remove the stains in your Can-Am seats after a ride. Once you've given them a vigorous wash, putting Armor All or some other equivalent on them will give your seats added protection.
Tuff Stuff carpet cleaner with a scrub brush also does work on Can-Am seats. And if you want to make your own DIY seat-cleaning mixture, one cup of Tide along with one cup of Zep cleaner mixed together with two gallons water in a sprayer is a great cleaning solution. You may never be able to prevent scratches on your side-by-side, but you can keep the seats in your ride looking nice and fresh.
Cleaning The Exterior Of A Can-Am
Taking a hose or pressure washer to your Can-Am after a ride is a sure-fire way to wash it down. But even after a long spray-down, there seems to always be mud seeping out from a crack or two just when you think you've gotten it completely clean. Taking the Can-Am skids off and cleaning the undercarriage is a good idea. Plus, it makes it easier to grease the U-joints and check the differential fluid — which can be done by pulling the fill plugs and making sure the oil isn't milky or low. Plus, removing the skids periodically and cleaning the flammable debris that accumulates in the floorboard is important for obvious safety reasons.
For the body plastics on a Can-Am, most riders use either SC1 or Motul e10, which are just silicon wax products that bring faded and stained plastics back to their original shine. Dollar store Pledge works great also, and the Zen industrial degreaser or Purple Power full strength we mentioned earlier can do the trick as well. Scrub it on before washing your UTV down to get all the mud stains out, just don't let it sit too long on painted surfaces.
Cleaning The Windshield Of A Can-Am
Take a look at the bottle on RainX or windex and you'll see that they both say to not use them on plexiglass. Windshield cleaning solutions like Plastx, Plexus, or 3m's Polishing Compound work well, but it's hard to beat simple soap and water. Whatever you do though, avoid using paper towels on your Can-Am windshield. Microfiber cloths are great, but a squeegee can work as well.
Deep Cleaning A Can-Am
Having a nice and shiny Can-Am is all well and good, but when junk infiltrates the internal components of your UTV, things will start to go downhill in a hurry. If you're trying to just clean the engine and transmission of your Can-Am without causing coursing, S100 works well.
If you've filled your Can-Am clutches and belt with muddy water, you're going to have to get in there to clean it properly. Pull the seat out, pull the plastics off, and remove belt cover. It's pretty simple, just make sure you take the belt off when you clean it. You'll probably need to take your primary apart and pull your secondary off and take it apart as well if you ran muck through them.
Closing Remarks
Whether you blast your Can-Am down with a foam cannon after a ride, hit it with a garden sprayer, or slide an oscillating sprinkler up under it and let it run for 10 to 15 minutes, there's more than one way of cleaning a Can-Am UTV. Keeping the cab clean will make rides more comfortable, while keeping the exterior clean will give you a prideful sense of ownership.
But even if you don't care about how your machine looks, cleaning it periodically is a surefire way of ensuring that things function properly. Be it on the disc brakes, inside the clutch, or in the wheel bearings, dirt, dust, and debris will wreak havoc on your Can-Am. So keep it mean and keep it clean, you won't regret it!