The Top 3 Tires For The Can-Am Defender
Jan 5th 2020
Asking which Can-Am Defender tires are superior is like asking which Can-Am side-by-side is the best — some are great for curtain situations, while others are more suited for other applications. And so it is with Defender tires and wheels. A tire set that propels your Can-Am Defender effortlessly through thick mud will, without a doubt, perform poorly on pavement or hard-packed trails. Similarly, a sand tire designed for dune and desert riding won't do as well in the mud. In addition to the type of UTV tire, the size, weight, and alignment of your Defender tires will also play a roll in the overall performance of your machine. Taking a holistic perspective, we looked at the durability, drivability, and cost of nearly every Can-Am Defender tire out there, and here are our findings.
Maxxis Carnivore Radial Tires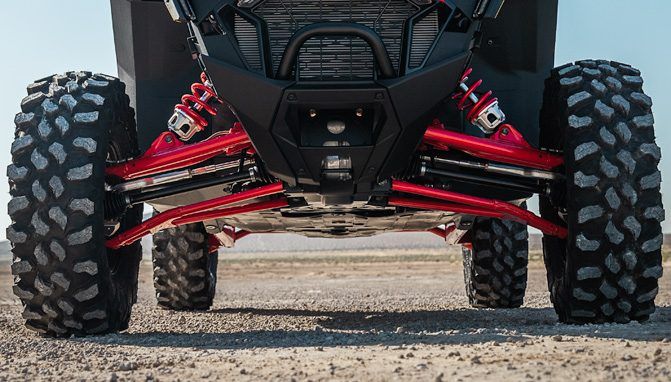 If you're looking for a good Can-Am Defender tire that will last when running on gravel and pavement, a tire that won't sink in the sand, and a tire that will still pull in thick mud, look no further than Carnivore tires by Maxxis. You can get a set with HD4 wheels or Dragon Fire wheels for around a grand, and although they are designed for all-around use, Carnivore tires perform well on dirt hills as well as in the mud.
Compared to other terrain-specific tires, Carnivores have few weaknesses. Be it on sand or shale, they aren't fussy and won't give you many problems. Carnivore Can-Am Defender tires are especially good for workhorse vehicles, as their 8-ply thickness makes them perfect for hauling heavy loads and preventing flats from errant nails, screws, staples, and other construction debris. Whether it's from logs, tools, or a big ol' buck, Carnivore tires can withstand the extra weight you load into your rig.
Carnivore tires come in 28", 30", and 32" heights, and they are non-directional. Compared to other all-terrain UTV tires, Carnivores are a bit more aggressive, with a thick tread used to grip the ground like a gorilla. The only downside to buying new Carnivore tires is that they are more expensive in Canada, where the government implements steep taxes that often offset the cheaper exchange rate. On the plus side, if you are buying from a private seller, you will not need to pay Canadian tax. For all the Americans out there, however, you can't go wrong with some Can-Am Defender tires like the Carnivores by Maxxis!
Pro Armor's Duel Threat Tires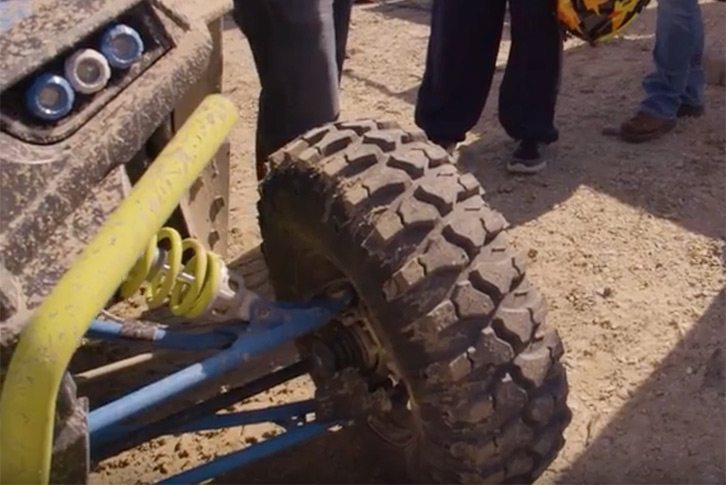 For all-terrain use, we've found the Dual Threat tire set by Pro Armor to be near the top of the class. Run 29x9 in the front and 29x11 in the rear and you'll be smooth sailing with zero noise on asphalt. The inner tread has a harder durometer for extra longevity with minimal wear, while the outer tread is stickier the other Can-Am Defender tires to really bite the turf. Dual Threat tires are virtually unstoppable off-road, and measure a true 29" with an super thick 10ply construction. The only caveat is that these aren't the cheapest tires out there. At around $250 a pop, a full set will set you back. Add some Pro Armor Halo wheels to the mix and even the richest riders among us might have second thoughts. However, because Dual Threat tires withstand the most heavy-footed riders, they are a better long-term solution that will prove more cost effective in the long run.
Intimidator Tires By SuperATV
According to a few Defender owners we've talked to, the 34x10.5x15 Intimidator tires by SuperATV are the best they've ever owned. Not only do they clean out well on every type of terrain — mud, snow, rocks, dirt, etc. — but they are also surprisingly smooth. They are definitely not a pure mud tire, yet do very well on muddy terrain. Unlike other Can-Am Defender tires, Intimidators are wider and heavier. This is great from a traction perspective, but may be problematic from a clutching perspective.
When running large Intimidator tires in watery mud, you should be fine. But in the thicker, "peanut butter" mud, the extra weight maxes out the machine's torque, which can be problematic. If you do 36" Intimidators, you'll most likely need clutch work and / or portals to reduce the gearing. However for trail riding and crawling on smooth clay terrain, 34" Intimidators should suffice.
Honorable Mentions
For exclusive sand riders, the Blackbird sand tire by TMW Offroad is hard to beat. For mudders who spend all their time in the slop, SuperATV's Assassinator tires are sure to up the fun factor. BKT's are awesome for pavement riding, but the DragonFire XM310 tires also hold up on gravel/pavement and ride smooth — the perfect tire for that Florida sugar sand. Bighorns are also popular, however they are made from a soft compound and wear down on machines driven by riders with itchy right feet. Whatever tire you choose, however, be it for your Defender MAX, Defender Pro, or Defender XMR, periodic rotations are a must. Now quit reading, get out there, and start ripping!