Top 5 Doors For The Can-Am Maverick, Can-Am Commander, And Can-Am Defender
May 20th 2021

From suicide Can-Am Commander doors to Puddle Buster Can-Am Defender doors, there are countless door options to choose between for each vehicle in the Can-Am UTV lineup. When it comes to doors for Can-Am side-by-sides, there are several factors that separate a decent set of doors from a great set of doors. The latching mechanism, seal, and sturdiness of Can-Am UTV doors are all important qualities to consider, and some of these attributes might be more or less important to you depending on how, where, and when you ride. If, for example, you ride year-round in the southern United States, you might benefit from half Can-Am doors or Can-Am doors with sliding windows. On the other hand, if you ride in the cold during winter, you probably want full Can-Am doors that trap as much heat as possible in the cabin. But whatever the case may be for you, below are our top five picks for the best Can-Am Commander doors, Can-Am Maverick doors, and Can-Am Defender doors!
Many riders like the Can-Am Defender suicide doors by Rival Powersports, while others prefer the Paddle Buster Can-Am Defender doors with a top-half glass section which can be removed in a matter of minutes. Some Defender owners go for solid doors, but soft doors are also an option. And where price is concerned, the cost of a Can-Am Defender door kit will depend on whether you've got a 2-door or 4-door machine -- and a set of hard doors with roll-down windows will certainly cost more than a set of soft doors that must be zipped open and closed.
The latches on Rage Fab doors for the Can-Am Defender shut very well and refuse to rattle -- even with an Audioformz roof stereo bumping at full blast. That being said, our pick for the best Can-Am Defender door kit goes to SuperATV. The metal Can-Am Defender doors by SATV are incredibly robust, with frames constructed out of carbon steel. The full-length SuperATV doors for the Can-Am Defender are also lockable, so you don't have to worry about someone absconding with your machine, your supplies, or your dash-mounted electronics. These doors are super easy to open / close, and they utilize gas springs to keep the doors fully ajar once they have been opened.
To stay warm during winter rides, a full windshield, half Can-Am Commander doors, a soft curtain in the back, and a Carhartt jacket will do the trick. And if you mud ride with 2" wheel spacers, you're going to want either full-length Can-Am Commander doors or extended fender flares to prevent mud from getting flung into the cabin. In summer, half doors and even quarter doors can roast you out, so many riders choose Can-Am Commander doors that are easy to remove.
Like with the Defender, SuperATV and the UTV firm Pro Armor also make decent doors for the Can-Am Commander. For the money, the Can-Am Commander doors by Dirt Specialties are the way to go. Take care, however, if you buy your parts from places like Ebay or Amazon, as cheaper knock-off Dirt Specialties doors exist which don't fit correctly and come without the appropriate mounting hardware.
If you have the means, DragonFire doors for the Can-Am Commander are as good as they come! Although they're a bit pricey, the cost is more than justifiable for what you get. DragonFire doors are extremely quiet, with lockable Slam-Shut 2-Stage latches and composite Delrin sleeve sticker pins for increased aerodynamics and noise reductions on both the track and trail. You can get colored door skins and graphics to match your stock color scheme too, and since every product by DragonFire is designed and manufactured in the United States, you can rest assured that you won't be getting an inferior product made with the help of slave labor from a place like China!
Both Dirt Specialties and DragonFire also produce doors for the Can-Am Maverick. The build quality is equally as exceptional for each Can-Am model, and the fit and finish of both door brands is undeniably superior. Again, though, the differing factor is price. So if you're on a budget, you'll be more than happy with Can-Am Maverick doors by Dirt Specialties.
The aforementioned doors are perfect for summer riding, but for those looking for full Can-Am Maverick doors or upper Can-Am Maverick doors to stay warm during winter, the upper door enclosures by SideXSide Enclosures and the full soft doors by Over Armour are excellent. Both doors utilize Aqua-View Vinyl for the windows, which not only prevents heat transfer, but also allows for crystal-clear transparency and unhindered views from any angle.
Best Can-Am Maverick X3 Doors
When it comes to the performance X3 model of the Can-Am Maverick, the undisputed aftermarket door champions are the folks at TMW Offroad. We're not knocking SDR Motorsports, Henn Racing Technologies, Funco, or Geiser Performance, but from our analysis and price comparisons, the Can-Am Maverick X3 doors by TMW Offroad check all the boxes. Sure you can pay exorbitantly for Can-Am Maverick X3 doors that are integrated into your aftermarket cage for unbeatable strength, but this is a bit too high end for most riders. And why buy the cow when you can get the best-tasting milk around for only pennies on the dollar?
Final Thoughts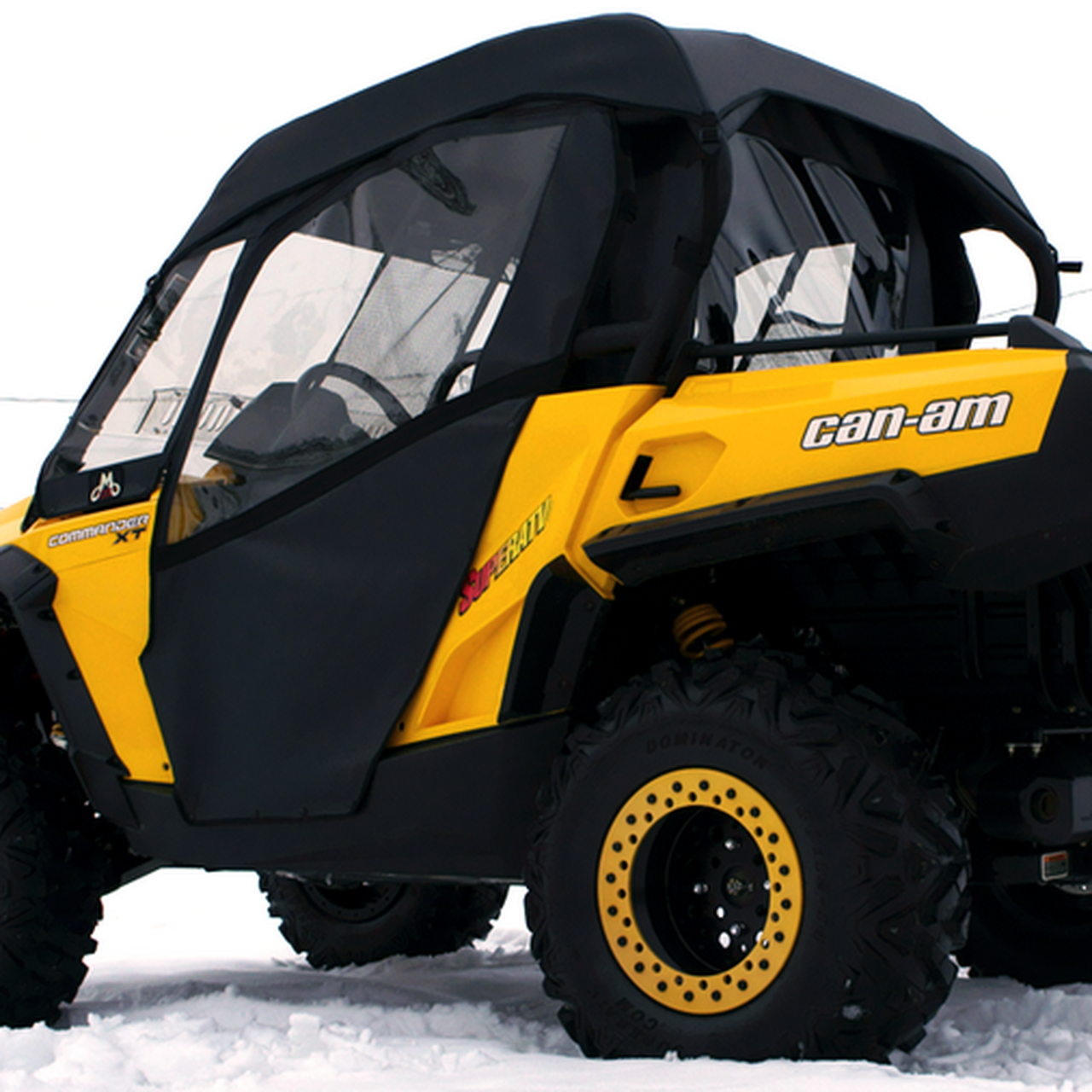 In closing, you can't go wrong with SuperATV doors, Dragonfire doors, Dirt Specialties doors, Over Armour doors, or TMW Offroad doors for your Defender, Commander, Maverick, or X3. It all depends, however, on where you live, the weather conditions through which you ride, and the activities you enjoy partaking in. If you're frequently entering and exiting the vehicle, you probably don't want something that needs to be zipped and unzipped each and every time. If you ride in the cold, full doors are unbeatable; but if you ride in the heat, vented doors or sport doors with proper airflow will be your saving grace. As long as you stick with one of the aforementioned brands, however, we guarantee that you'll be happy with whichever Can-Am UTV doors you choose!