What Mirrors To Get For The Can-Am Maverick, Can-Am Commander, And Can-Am Defender
Oct 15th 2021
Buying cheap UTV mirrors in a bid to save a buck will often result in the exact opposite. Not only do inferior mirrors for the Can-Am Maverick, Can-Am Commander, and Can-Am Defender shake, rattle, and reflect poorly, but they're also prone to break. And even if you pop on some cheap replacement Can-Am UTV mirrors, you'll still be out what you would have been if you went with quality UTV mirrors in the first place. That being said, though, value does not necessarily equal price, and some of the best Can-Am UTV side mirrors and rear view mirrors can be procured for next to nothing. Some mirrors for Can-Am side-by-sides are basic yet reliable, while other mirrors for Can-Am side-by-sides offer much more than a simple reflective surface for rearward views. The question is, however, are the more expensive Can-Am Defender mirrors, Can-Am Commander mirrors, and Can-Am Maverick mirrors worth it? And if so, which off-road mirror brands are the best? Keep reading, because this is the topic we're discussing here today!
Side Can-Am UTV Mirrors Vs Rear View Can-Am UTV Mirrors
The ideal mirror setup for you and your UTV should include both side mirrors and a rear view mirror. You'll want side mirrors for those wet and wild days when mud splashes all over your rear windscreen, and you'll want a rear view mirror to get a better picture of the goings on directly behind your vehicle. When reversing, it's nice to have multiple different perspectives / vantage points, and when monitoring the people, pets, and loads of cargo in the bed / back seating area, having an in-cab mirror is super helpful.
For street legal purposes, some states require riders to have a single mirror. On the other hand, some of the more restrictive nanny states out there mandate the use of both side mirrors and a rear view mirror. Each style of mirror has its place, with some mirrors being optimal for trail riding, and other mirrors being better suited for wide-open prairies, deserts, and grasslands. If you're wondering which mirror type is best for you, it really just depends. But there are a few commonalities that all of the best Can-Am UTV mirrors share.
The Best Side Mirrors For Can-Am UTVs
No matter the brand -- be it EMP, Bad Dawg, or Kolpin Powersports -- a good set of side mirrors for the Can-Am Maverick, Can-Am Defender, or Can-Am Commander should mount to the vehicle in a solid manner. If you're running doors, a side mirror mount adapter might be required to fix your mirrors directly to your full or half doors. But if you're not running doors on your rig, the traditional cage clamp is an incredibly effective way to mount a mirror -- and easy as pie to install!
There's nothing wrong with a standard set of UTV side mirrors -- provided that they are adjustable, firm enough to stay put, and flexible enough to fold / bend when smacked against trees or other trailside impediments. Folding side mirrors for the Can-Am Commander, Maverick, and Defender can be repositioned inwards before riding deep brush, while breakaway mirrors for Can-Am UTVs will move and flex after impact rather than getting ripped off or bent. Companies like Moose, Battle Armor, and ATV TEK all make great breakaway side mirrors, so if you ride trails or dense wooded areas, a set of breakaway mirrors is likely the right fit for you!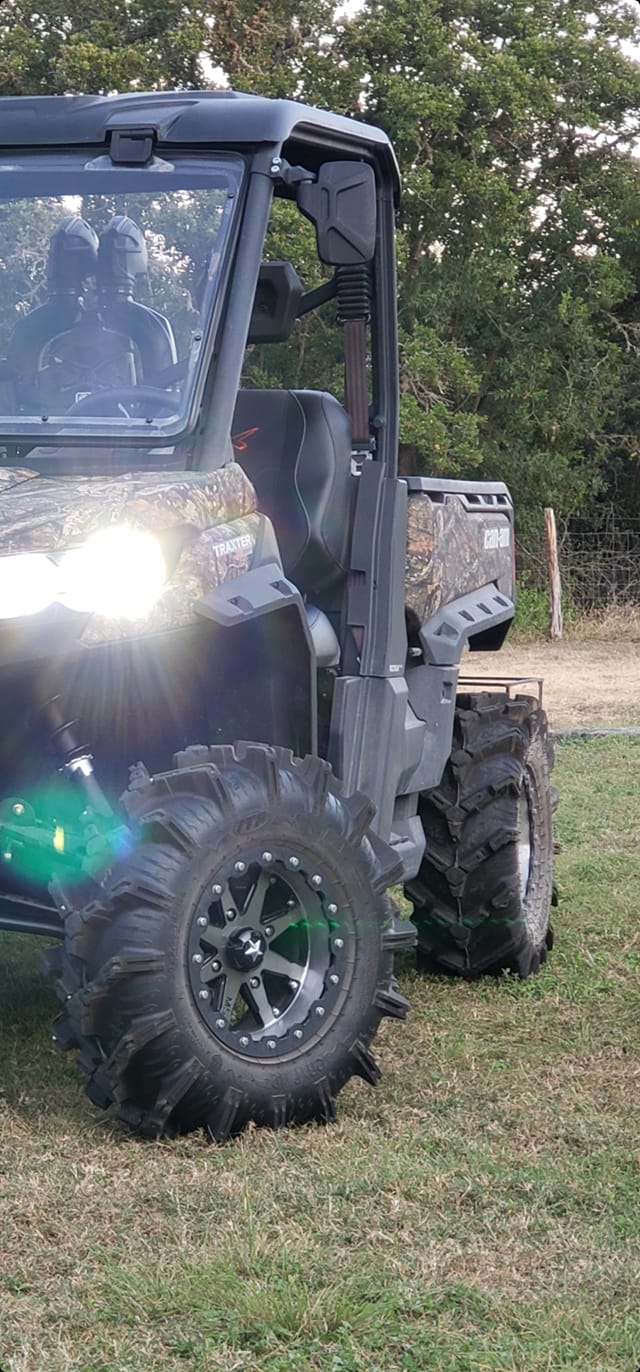 In addition to breakaway side mirrors, riders also have the option to choose multi-functional Can-Am side mirrors with integrated LED lights. Mirrors with built-in blinkers are a solid alternative to turn signal kits, while mirrors like the ones by Xprite, Sector Seven, and TMW Offroad have lights that can be angled to give you more than180 degrees of coverage. Seizmik also makes lighted mirrors for the Can-Am lineup of UTVs, with their Pursuit "night vision" side mirrors being extremely popular among riders who use their machines for fishing, hunting, and other applications that require stealth.
The Best Rear View Mirrors For Can-Am UTVs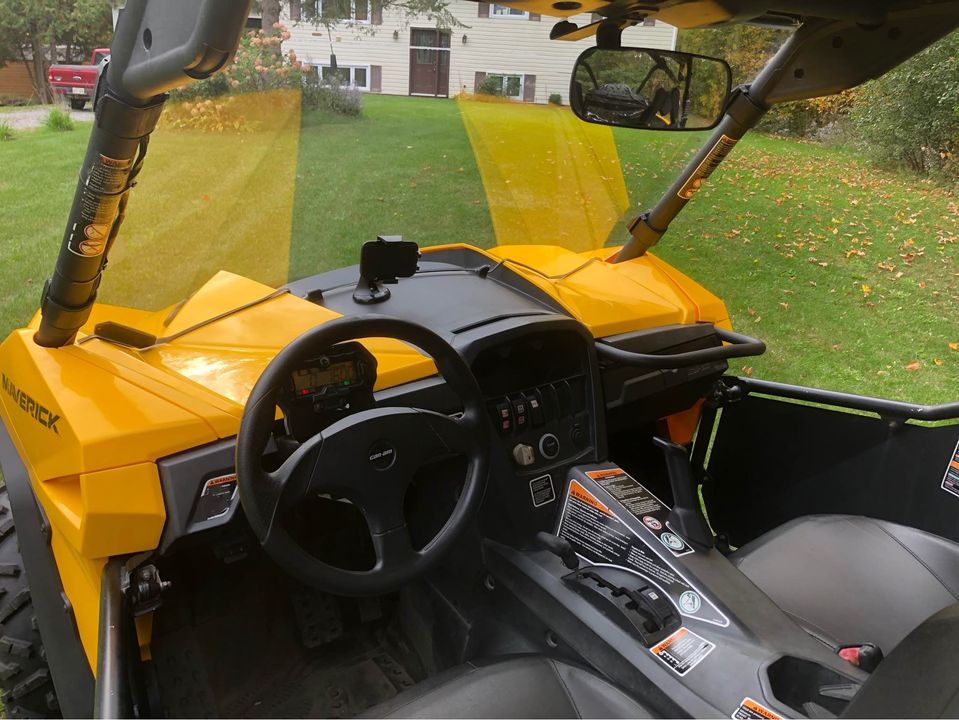 Like their lighted side mirrors, Seizmik also offers a lighted rear view mirror. But if you've already got a dome light, accent lights, and running lights installed in the cab of your rig, a lighted in-cab UTV mirror might be superfluous. For the broadest range of visibility, panoramic rear view mirrors, multi-panel rear view mirrors, and wide-angle rear view mirrors are the ticket. And regardless of whether you prefer flat mirrors, convex mirrors, or concave mirrors, there are myriad options within each category available at places like Everything Can-Am Offroad!
Individuals with full cab enclosures as well as riders with tinted windows riding at night will likely struggle when using both side mirrors and rear view mirrors. So if this sounds like you, a Can-Am UTV backup camera might be the appropriate course of action. Products like the Vantop Mirror Dash Cam or the backup cameras by Garmin are great, and the former comes with a front facing camera that allows you to record your rides as well!
Concluding Thoughts On Can-Am UTV Mirrors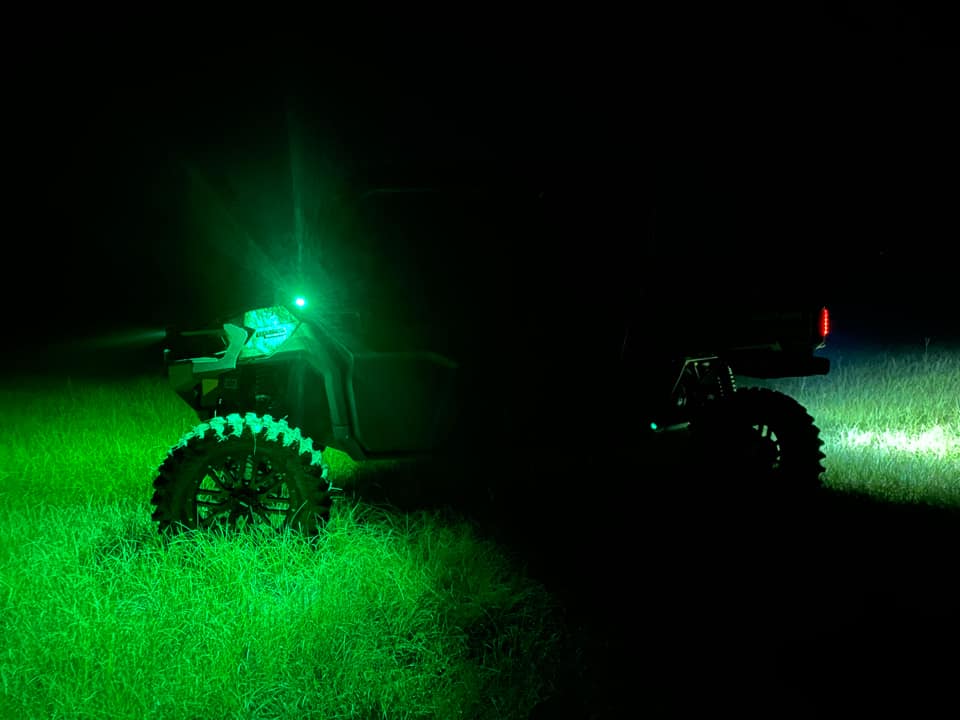 Regardless if you use your Can-Am Defender around the farm, your Can-Am Commander to traverse rocky logging roads, or your Can-Am Maverick to reach breakneck speeds at the nearby sand dunes, there isn't a situation that can't be improved with a Can-Am UTV mirror kit. Things like window tints, thick mud, and headache racks can sometimes obstruct the views provided by side-by-side mirrors, in which case backup cameras prove extremely useful. Lighted mirrors are also practical and economical, but for a low-tech solution to a time-old problem, you can't go wrong with a standard set of off-road mirrors. Even basic mirrors, though, should include features like breakaway functionality, adjustability, and firm mounting mechanisms that both prevent damage as well as improve usability!