​Working The Soil With Can-Am Defender Big Buck And Small Buck Disc Plow Systems
Feb 15th 2023
There are various tools, attachments, and implements for side-by-sides like the Can-Am Defender designed for use in the agricultural space. But before you go spreading around bags full of Triple 13 fertilizer and your own proprietary blend of seed mix, you'll first want to plow your plots to break up the topsoil, mix in air / nutrients, and create a seed bed with proper drainage. For large areas and industrial-scale cultivation, there's really no substitute for a tractor. But for small gardens, hard-to-reach food plots, and anything under a few acres, a hitch-mounted disc plow coupled with a Can-Am Defender will work splendidly! And when it comes to Can-Am Defender discing implements, you'll struggle to find something better than the Big Buck and Small Buck disc plows by Battle Armor Designs. Whether you've got an XTD HD8 with a factory tow hitch, or an HD10 with an aftermarket hitch receiver, if you've got earth to prep, the UTV disc plow systems by Battle Armor Designs won't let you down; and here's why!
When To Use A UTV Disc Plow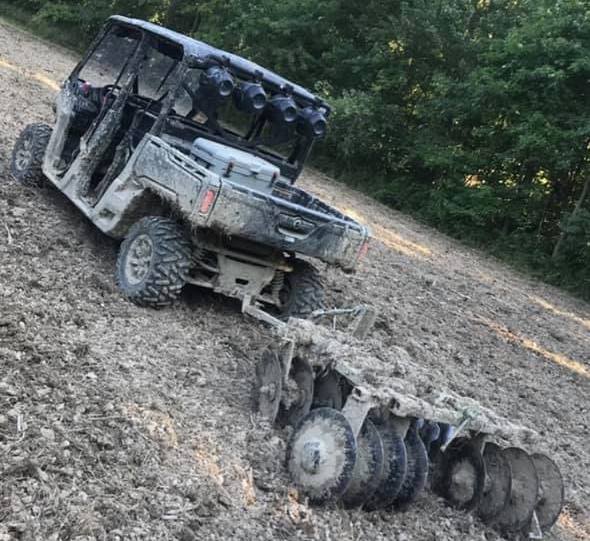 For full transparency, it's important to note that UTV discing implements like the Big Buck and Small Buck disc plows aren't the right fit for every situation. As we mentioned earlier, their small size and limited capability makes them inappropriate for large-scale applications. But these attributes are in fact features, not bugs!
While Battle Armor Designs disc plow setups can be used – and are often used – for small household plots, community gardens, and those difficult-to-hit patches of ground on the peripheries of commercial farms, they're designed primarily to break and work ground in remote locations that are inaccessible with wider, taller, or heavier machines.
The ground conditions can also factor into whether you should use a disc plow or not. Products like tine plows or harrows may be more appropriate if the ground is hard or has a high clay content, while rocky areas may also prove problematic for disc plows. A Can-Am Defender will make quick work out of spraying and seeding your food plots and duck holes, but you might have to do a few passes when using a Can-Am Defender disc plow.Tractors are undoubtedly faster and more powerful than UTVs when it comes to plowing hard ground, but they're also prohibitively expensive, even when rented or purchased heavily used. Some riders also argue that this kind of work is hard on UTVs. But plowing just a few acres every season is fine, so long as you keep up with maintenance and ensure that you're alway in 4x4 when plowing!
Why Choose A Buck-Series Disc Plow?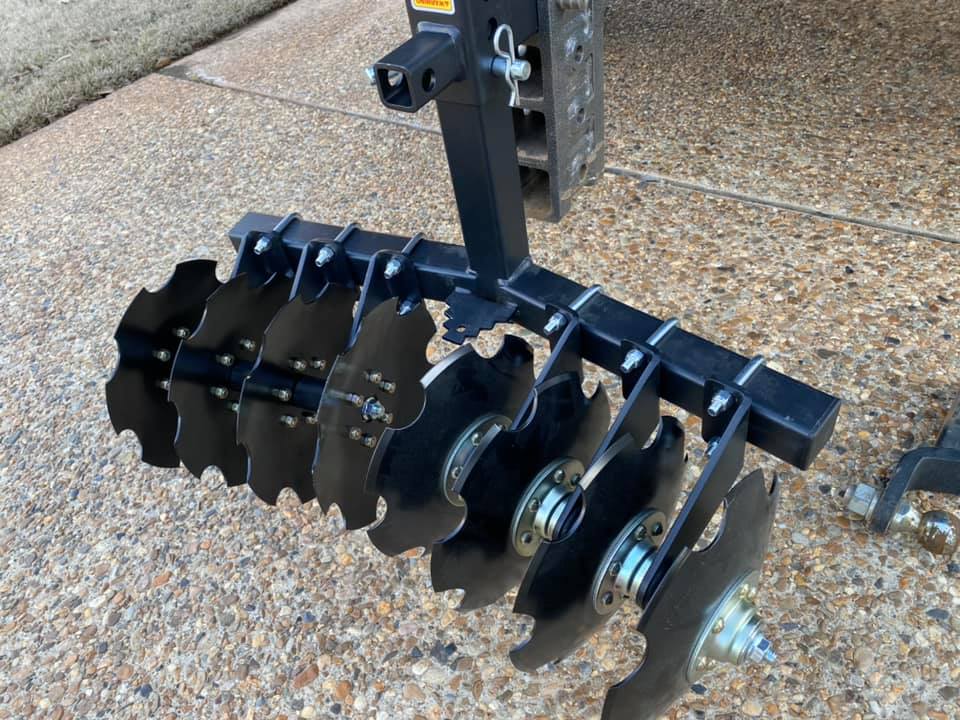 One of the benefits that comes through the use of a Buck-Series disc plow is that you don't have to add weight to it. You'll see folks with pull-behind UTV disc plows strapping logs, cinder blocks, or sacks of Quikrete cement onto their plows in a bid to achieve their desired level of ground penetration. This isn't required with a Big Buck or Small Buck disc plow, as they utilize the weight of your machine. Plus, unlike other side-by-side disc plows that are made from Chinese-grade materials, the heavy-duty, commercial-grade disc plows by Battle Armor Designs are built by skilled craftsmen right here in America!
The Big Buck and Small Buck systems include eight discs and six discs respectively, which are engineered to be aggressive and clean out exceptionally well. The turning radius of your vehicle will also be preserved with a Buck-Series plow, and when you're en route to your food plot, the plow can be locked up in a high position so that it doesn't get banged up on rocks, roots or ruts!
Final Thoughts

In addition to disc plows, implements like spreaders will also prove useful regardless of whether you're disbursing seed, feed, or fertilizer. Additionally, chain harrows, box blades, and rollers / cultipackers can also come in handy when optimizing your seed beds for a bountiful yield. But no matter if you're wanting to construct a habitat for Whitetail with plentiful amounts of wheat and oat, or planting sorghum grain to attract pheasants and quail, you can do it all with a Big Buck or Small Buck disc plow on your Can-Am Defender!