Must-Have Overlanding and Camping Accessories for your Can-Am Commander, Defender or Maverick!
Feb 28th 2022
Camping has been a popular pastime in the off-road community since its inception. Since the beginning of the Covid-19 pandemic, however, overlanding and camping has skyrocketed in popularity.
It is easy to see why, when the whole point right now is to not be confined in close quarters with others who may be infected, right? What easier way can you think of than getting out into the fresh, open air? And what better way to enjoy the experience than to take your Can-Am Commander, Defender or Maverick Overlanding and Camping!
Now, obviously these UTV's are ready to take on any off-road terrain you can throw at them. But they aren't necessarily ready for that overlanding trip, nor are they properly equipped for camping.
Not yet, at least!
So lets get you started with everything you need to take your side-by-side overlanding and camping, and we will start with the essentials you cannot leave home without:
Toilet paper (I don't even need to explain how important this is)
First-Aid Kit
Flashlights
Camp-ready cookware
Plates, cups and utensils
Trash bags (pack out what you pack in!)
Bug spray and sunscreen (you will thank me in both instances)
Enough food and water to last your entire trip, and a little extra just in case.
Extra Can-Am Gas Containers (filled with extra fuel)
Proper clothing and shoes for the climate/terrain
Maps of the surrounding areas
Cellphone chargers
Sleeping bags and pillows
Toothpaste, deodorant etc. (those you're sharing a tent with will thank you)
Does that seem like a lot of gear already? Because we aren't done yet! Aside from those essentials that you shouldn't head out without, there are some alterations to your side-by-side you will want to make to ensure it is ready for the trip.
Can-Am Rooftop Tents
When you think of camping, a mental image of a tent is likely the first thing you picture. A rooftop tent, however, elevates the camping experience to the next level.
Since models like the Can-Am Roof Top Tent by Rough Country are mounted atop your UTV roof via cargo racks or the roll bars, there are some surprising benefits.
First, you're up off of the ground. This keeps you warmer at night, and cooler during the day. But it also keeps you away from ants, spiders and other not-so-friendly wildlife that may be sharing the campsite with you. And a rooftop tent like this is so easy to setup and tear down, that you can just have the kids do it while you get a few more minutes of fishing in!
But if a rooftop tent doesn't work for your situation, or simply doesn't fit in your budget at the moment, just be sure to get a 2-4 person tent that rolls up in a compact form factor that won't take up much room in your Can-Am UTV.
Can-Am Commander, Defender and Maverick Cargo Racks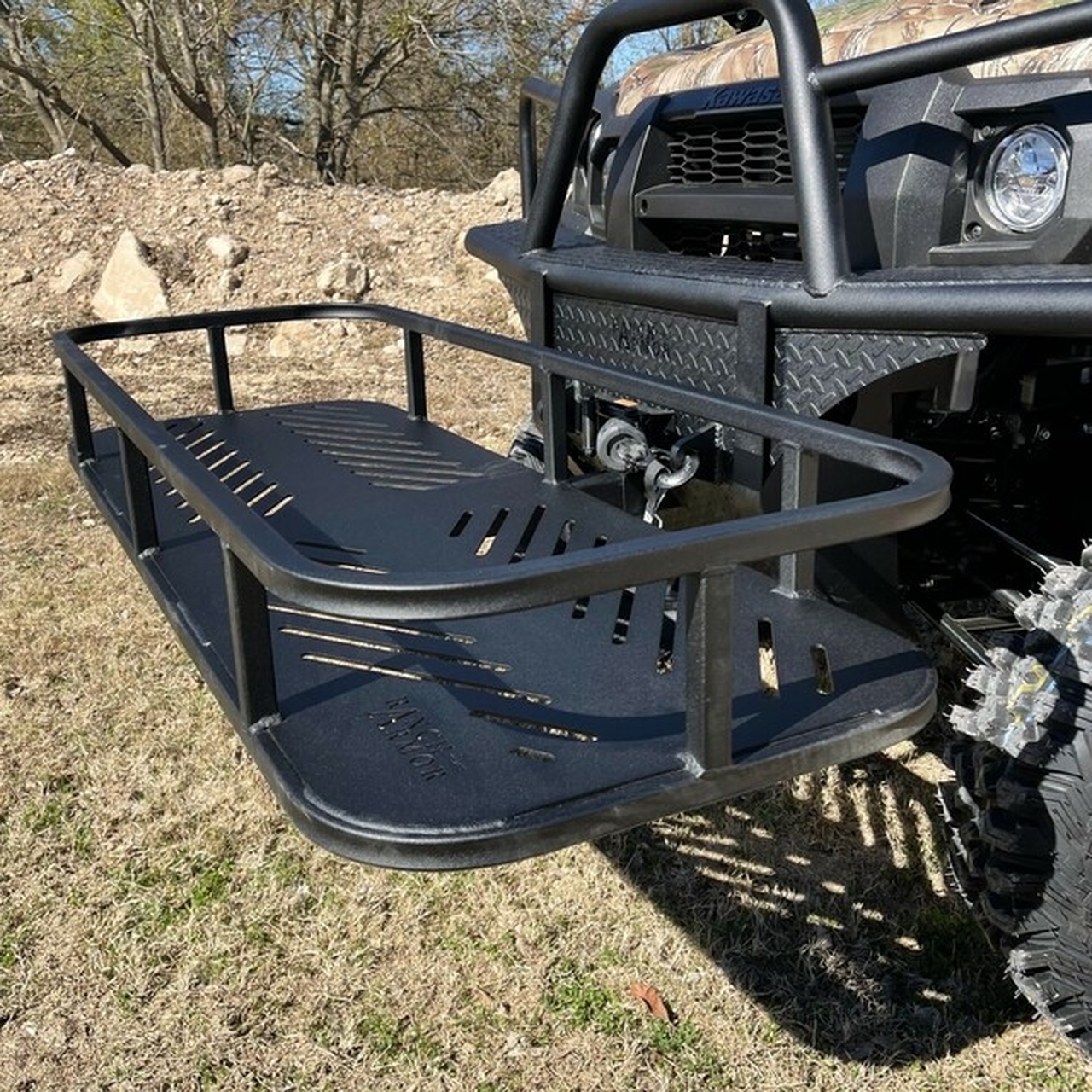 Since we are on the subject of space, lets talk about the lack of it on all three of the Can-Am side-by-side models.
The Can-Am Commander and Can-Am Defender have the most available cargo space via their beds, but even those leave something to be desired. Adding a Can-Am Commander, Maverick, Defender Front Hitch Utility Rack by Ranch Armor greatly increases the available space in all three models and comes in handy in nearly every situation.
With the Can-Am Maverick having the least amount of available cargo space to work with, it can quickly fill up when packing for a camping trip. If you install a Can-Am OffRoad Hitch-N-Ride Hauler by Great Day in addition to the front hitch utility rack we mentioned, you are effectively doubling the available space you have to work with!
Thankfully for owners, the amount of Can-Am Maverick Cargo Racks available is seemingly endless. So there is a solution for every situation to get you and your gear down the trail and to the campsite! Can-Am Maverick overlanding and camping has never been so easy!
But what else could you possibly need for camping?
Can-Am Coolers and Refrigerators
Food is an all-important part of camping.
In fact, camp meals may be one of the first things most people plan out aside from finding the campsite itself. Burgers, steak, hot dogs and all the usual campsite favorites have one thing in common: they need to be kept cold until cooked. Bringing along a Can-Am 20QT Super-Cooler by Kolpin Powersports will do the trick for shorter camping trips. But what about that epic 7-day trip you and your best friends have been planning?
This is when you will want to look into an off-road refrigerator.
Now, I'm not saying you should ratchet-strap a mini fridge to the front of your UTV. But I am suggesting you pick up something like the Can-Am Offroad 45L Portable Refrigerator/Electric Cooler by Rough Country. These are supremely convenient, and keep your groceries cold indefinitely as long as you have power for them to turn on occasionally and cool things back down.
The only downside to these, however, is the potential power draw on your main battery. This is one of many reasons to add a Can-Am Dual Battery Kit to your Commander, Defender or Maverick. With one of these kits, you'll have the main battery dedicated to reliably starting your UTV each day of the trip, and the second battery will be reserved only for your auxiliary electronic accessories such as the refrigerator!
Now that you've got everything you need to take your Can-Am Maverick, Defender or Commander overlanding and camping, there's only one final step:
Book the trip and get out there!