​Two-Door Vs. Four-Door Can-Am UTVs
Sep 15th 2022
Some riders do an excessive amount of research before settling on which side-by-side to buy, while others decide on-the-spot based on what's available in their area. Although you don't have to write a thesis paper on the subject with citations and references, doing a bit of homework will go a long way to help you get the right machine for your personal needs. Aftermarket upgrades such as TORQ lockers, pin lockers, and snorkel kits can be added to make models like the XT Defender comparable to the Defender XMR, but it's increasingly more difficult to give a 2-door Can-Am UTV the same functionality as a 4-door Can-Am UTV. Roof racks and hitch baskets can increase your rig's cargo capacity, while aftermarket bed seats like the ones by Ranch Armor enable users to safely carry more passengers. Be that as it may, there are some attributes of 4-door side-by-sides that can't be replicated with a 2-door version, and vice versa. So before you go making a huge investment in your off-road future, here are some of the key differences between 2-door Can-Am side-by-sides and their larger 4-door counterparts!
Benefits Of 2-Door Can-Am UTVs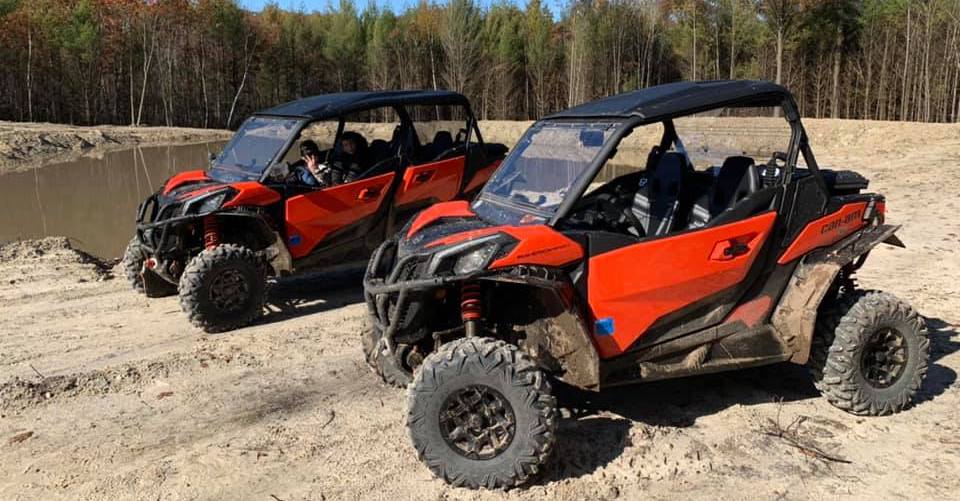 If you do a lot of tight trail riding and don't need the extra room that a Can-Am Maverick MAX, a. Can-Am Commander MAX, or a Can-Am Defender MAX provides, going with a 2-seater is an excellent choice. Performance wise, 2-door and 4-door Mavericks run a pretty close race, and the same can be said for the Defender MAX and the Commander MAX as well. Nevertheless, 2-door Can-Am buggies are easier to store, they require smaller trailers, and they're lighter / more agile. Unlike 4-door UTVs – which can sometimes feel like driving a bus on windy trails – 2-door UTVs have sharper turning radiuses and are easier to maneuver. You can still ride 4-door machines in the woods, but you'll want to take things slower and make a few more multi-point turns.
Because they're bigger, it makes sense that 4-door UTVs are more expensive than their 2-door cousins. And the money you'd save by getting a 2-door rig can cover a few mods / accessories that would compensate for the deficiencies of a 2-door machine. Additionally, due to the longer wheelbase of 4-door vehicles, they're more prone to snag on the belly and get high centered. Where fun and excitement are concerned, you can't beat a 2-seater. Plus, with a MAX Can-Am side-by-side, everyone without a bike will be trying to tag along with you!
Benefits Of 4-Door Can-Am UTVs
The most obvious benefit of owning a 4-door Can-Am Maverick, Defender, or Commander is the extra passenger and storage space. If you've got a wife, girlfriend, husband, or boyfriend who wants to ride along, a 2-seater might suffice. But for kids, grandkids, pets and friends, a 4-seater will turn a crowd into a party! Sure, you could just buy two separate vehicles for the family, but then you've gotta haul, store, and pay for additional machines that you could have otherwise done without.
Although the longer wheelbase of MAX Can-Am side-by-sides makes them easier to high center, the stability that comes with that extra length actually helps 4-door vehicles perform better in some environments – such as rock crawling and hill climbing. In addition to being smoother over rough terrain due to the longer wheelbase, the in-cab heat is also less intense in 4-door Can-Ams.
Final Considerations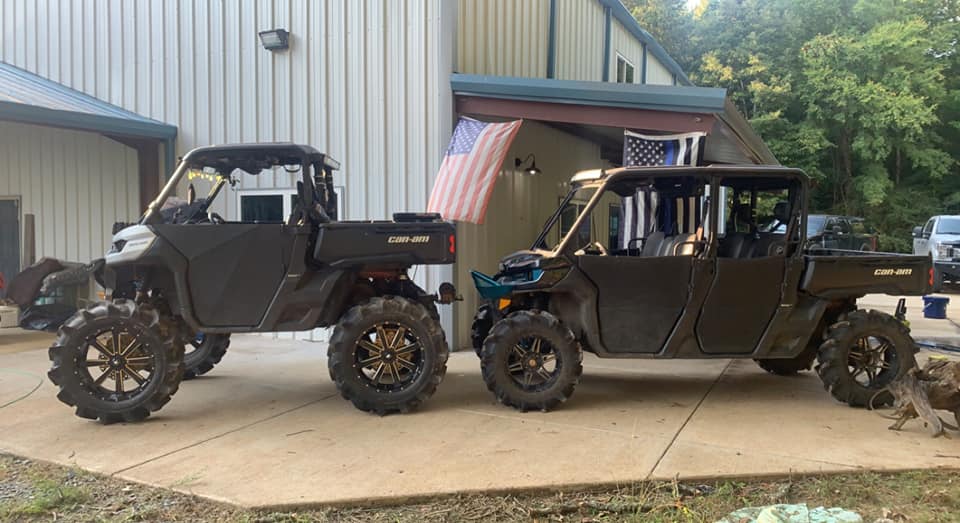 Everyone's situation is different, which makes the choice between 2-door and 4-door side-by-sides a personal one. Some riders prefer the nimbleness and tight turning radius of 2-door Can-Am machines, but opt for 4-door vehicles because they want to ride together with their family. Other family raiders go with 2-door UTVs for the parents, and have the kids ride separately on ATVs or dirt bikes.
With a 2-door buggy, you can really whip it in the trees and gun it around big berms, whereas 4-door Can-Am UTVs are more cumbersome and bulky. Yes, it's nice having the ability to bring the kids / grandkids along, but not everyone wants to be lollygagging down the trail every time they go out. Furthermore, some models / editions – like the Can-Am Maverick X3 RC – only exist in the 2-door configuration. The best advice we can give is to test out / go riding with people that have both. See first hand what you like, and what you dislike, and then make your decision accordingly!