Most Popular Can-Am UTV Modifications and Upgrades
Mar 22nd 2022
When a proud new owner of a Can-Am side-by-side brings their machine home for the first time, it is a joyful occasion. Excitement is in the air, and we all know the feeling of anticipation leading up to the first ride.
Once that first ride is out of the way, however, what do we fill that excitement void in our lives with?
Modifications.
Thats right… The slippery slope of UTV modifications is a rabbit hole we all willingly race down. And the Can-Am UTV lineup has no shortage of popular mods to add to your list. So buckle up, and lets dig in to the most popular mods for the Can-Am Maverick, Commander and Defender!
Can-Am Maverick Modifications and Upgrades
With no shortage of available mods for the Maverick and Maverick X3, we'll cover the most popular ones for you.
Can-Am Maverick exhausts are often the first upgrade on a new owners list. An obvious reason for this is that an aftermarket exhaust makes your UTV sound even bigger and badder than it already does. But you'll also, in most cases, be adding more horsepower and slightly better fuel efficiency by installing an aftermarket Can-Am Maverick exhaust.
So aftermarket exhausts are a win-win, right?
We also noticed many an owner replacing their stock Can-Am Maverick wheels with Can-Am Beadlock Wheels.
Why?
Because beadlock wheels help to ensure your bead doesn't slip when turning corners or driving over rocks and logs. Especially when you've let some air out of the tires to increase traction, which is when the likelihood of a slipping bead is at its greatest. This makes for one of the more useful modifications you could add to your side-by-side for an epic ride!
Can-Am Commander Modifications and Upgrades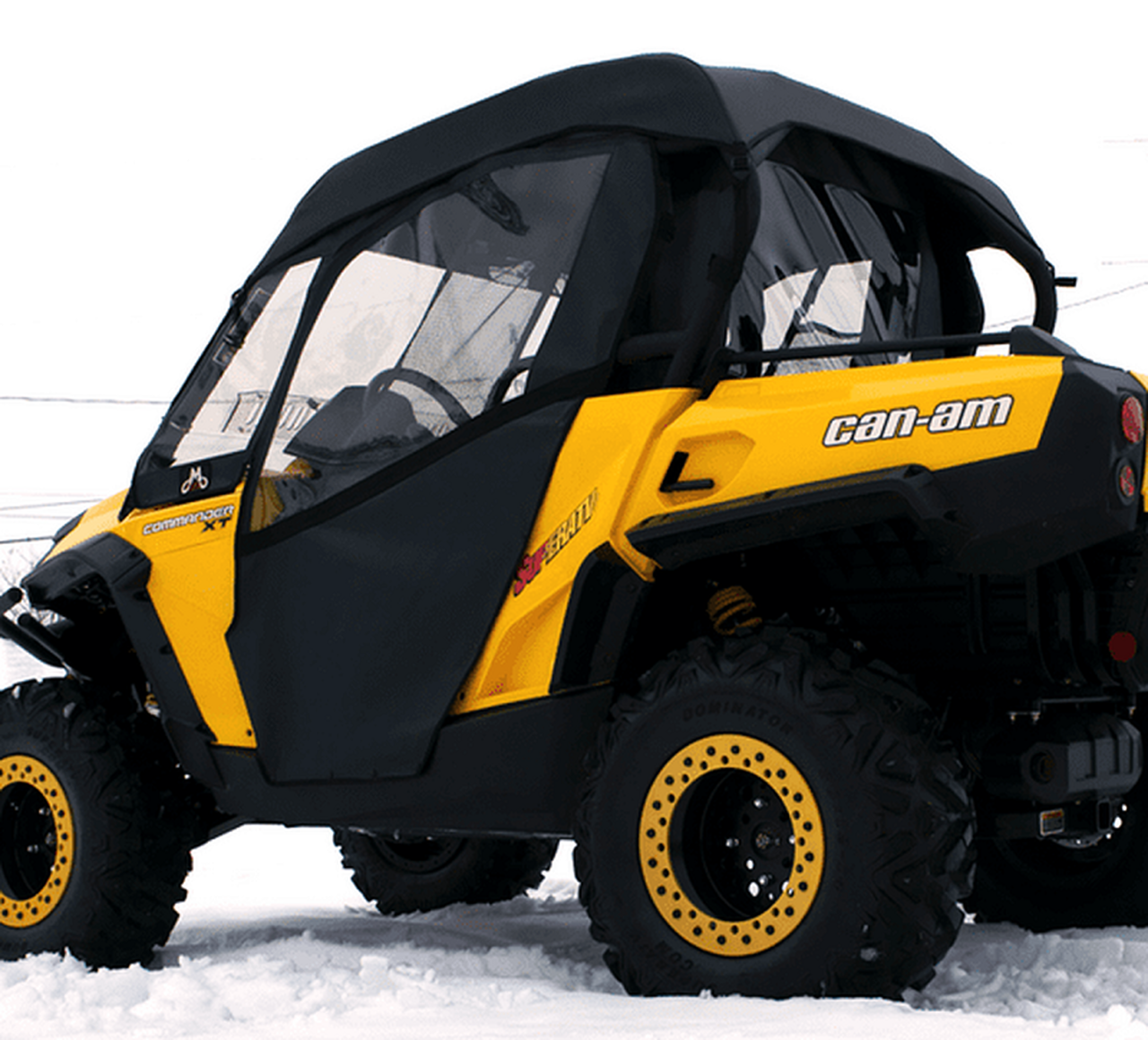 After seeing more and more Commander owners that live in and use their UTVs in increasingly colder environments, one mod was immediately noticeable: Can-Am Commander Cab Enclosures.
A cab enclosure allows riders to escape from extreme cold, rain, and snow by retreating into the UTV. Models such as the Can Am Commander Full Cab Enclosure w/Aero-Vent Windshield by Octane Ridge even provide users with a windshield that vents to prevent the buildup of fog. Cab enclosures are perfect for getting jobs done around the farm or ranch, or even when getting to the next site while overlanding and camping.
If you live and ride your Commander in an area where the cold is unbearable, the next most popular mod will be right up your alley: a Can-Am Commander heater.
Adding something like the Can-Am Commander Cab Heater With Defrost by Inferno Cab Heaters will ensure that you're able to fully heat the inside of that brand new cab enclosure we were just talking about.
No more frozen fingers while you're trying to get work done out on the property!
Can-Am Defender Modifications and Upgrades
As the most utilitarian UTV within Can-Am's side-by-side lineup, the Defender doesn't have as many performance mods available for it. But there are still plenty of extremely useful mods for you to satiate your need to upgrade and tinker!
A Can-Am Defender Dual Battery Kit is usually high up on most people's wishlists, and dual battery setups are also commonly on the lists of most Maverick and Commander owners too. But what does it do, and why do you need it?
Well, have you ever plugged anything in to the aux power ports on your UTV? Fancied adding Can-Am Defender winches (another very popular modification)? What about light bars and audio systems, or even a refrigerated cooler to keep all of your food and drinks warm on a camping trip?
All of these accessories use electricity, and the small stock battery simply can't produce enough to power everything.
Many owners upgrade their Can-Am Defender battery, but even that won't help when you use a lot of electronic accessories. A dual battery kit allows you to add a secondary battery, and isolate your electronic accessories to only pull power from that second battery. This ensures that your primary battery remains untouched, and fully charged. Always ready to reliably start your UTV day in and day out.
Putting it All Together
Hopefully all of these Can-Am side-by-side modifications and upgrades give you further fuel for your list and lead to some epic projects coming up on riding season.
But, don't blame us when your significant other yells at you when more parts show up on the doorstep next week!